The day starts out with two turtles and a cute box fish swimming near the boat dock and then dolphins in the entry to the harbour. A couple of them swim our bow wave right underneath us. It is already a stellar day.
Our first dive is at Garden Eel Cove. D, our dive master, guides us north towards a point. On the way, a spotted eagle ray swims by and then a turtle cruises by close enough for photos and videos. The point is full of fish. Great schools of all sorts of fish. It is a rare sight to see so many. We take our time gazing up and around and down at all the sea life.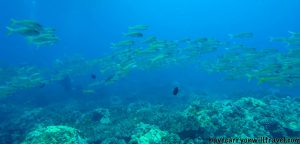 Our second dive is at Crescent Beach, a spot popular for getting glimpses of the resident dolphins. D lays out the plan to get the best opportunity to see the dolphins that are, in fact, in the area. His plan and our patience pays off and we are graced with the dolphins swimming by us so close we feel like we could reach out and touch them.
We doddle back to the boat, hoping they will swim by again. B, Murray and I stay under as long as we can to enjoy this last day of stellar diving which has been one of the best of this trip.