Long ago while attending UBC, I lived in Vancouver. I remember the Fraser Valley as a peripheral blur caused by traveling 110 km/hr east and west on Hwy. 1.
When we drove to Victoria last summer we diverted off the Trans Canada Hwy. and headed towards Tsawwassen cross country. What we found is a whole world, at least on the south side of the highway. It is a pleasant drive, somewhat slower and still quite crowded but worth the extra time.
We are again on the west coast. As Debbie mentioned, we are here to attend our daughter's university convocation. The ceremony is in Abbotsford which means we have another opportunity to explore the Fraser Valley.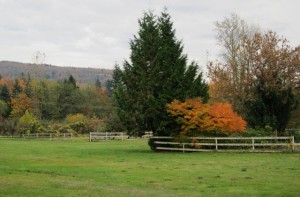 Scattered through the valley are several small communities, each very distinctive. None of them are completely urbane but none are completely rural. The edges are fuzzy. Driving along you pass a pumpkin field on the left and a Safeway store on the right, a bull eying up the herd in the adjacent field on the right and a suburban neighborhood on the left. The two very different land uses seem to coexist in harmony and it makes for a pleasant way to accommodate the populous and still provide for their needs. I fear that the pressure from the adjacent city will be cause for the urban environment to expand and take over more and more land that is used for other purposes.
Today we visit one of the communities that is on the Tourism Abbotsford website, Clayburn Village. Clayburn Village was constructed to house the workers at the Clayburn brick factory. The original factory was demolished years ago but the village remains.
Several of the original houses, the school, a church, and the corner store remain. All of the buildings have been very well maintained and still in use.
The historic area has been absorbed into a modern day subdivision but the area has managed to maintain the feel of a village. If you are in the area it is worth an hour and you can stop into the village store for a coffee and a treat.
The Fraser Valley is more densely populated that say the prairies but it is far from the urban jungle that is Vancouver. Each has its own appeal but it is Vancouver that seems to get all the press. I am sure there is a lot more to do in the Valley if we looked.  I just can't believe that so many people drive through the area at 110 km/hr and don't even know what exists just meters away on either side of the highway.