Today is a day to tour. B spent last night studying the maps and planning a route to what looks like skiable terrain. Earlier start today – 10:30! No skins, as the first part of the trip is downhill. Over the edge and into the trees. Traversing the slope on a slightly downhill trajectory we end up at a meadow that is the high point on the transition from one side of the valley to the other. The meadow is not that big and it is amazing we hit it right in the middle.
The uptrack on the west side of the valley is again a shallow traverse. After not long we are at treeline and lunch in a sheltered sunny spot with a view. A million dollar view. We travel a long way in a reasonably short time. Here we split. B, M and J headed back to the lodge, J and I see a ridge farther on that looks like it needs some ski tracks.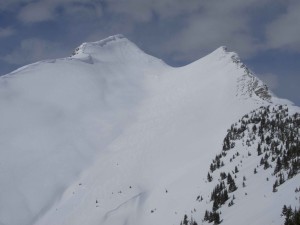 We go up. The climb is steep. We keep our senses on alert and there are no signs of instability. We reach the top and the view on the other side is more than worth the hike. As we edge our way along the ridge we keep looking north over the edge to see where we are going to ski down. We cannot really see the slope but we figure out where we are going to enter. There are 20 or 25 turns to the bottom varying in quality but none bad. It is steep but completely skiable. Life is good.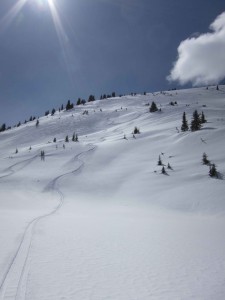 The run through the glades to the creek below is north facing, the snow is dry and the skiing is great, then all of a sudden it looks steep, so steep in fact I'm quite sure it is straight down. In fact it is a cliff. J and I survey the situation and find there is a route but we find it by sliding down each drop 3M at a time. This way and that until we reach a spot that has a clear run to the bottom and it is 15 more great turns.
It is an adventure for sure. I'm quite sure the risk we are taking is minimal and the skiing is good. The touring today is good and as enjoyable as the skiing. I don't think we had to walk as far as we did but there is always that sense of adventure. The serenity and the surroundings are what coaxes you on and on.