Today's the final stage of the Tour of Alberta and it is a circuit race through downtown Edmonton and its river valley. The event is about the riders and the race but it also it about meeting friends and fellow riders, swimmers, triathletes and workmates.
We walk the course, our first stop is Fortway Drive, the hill below the Legislature Building where the peleton swooshes down the hill, around a corner and onto the flat River Valley Road. The whirring sound of 90 sets of bike wheels on the pavement is joy to my ears.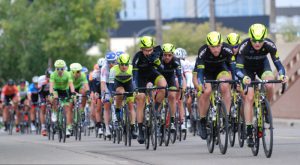 Our next stop is the intersection of 100 Avenue and 107 Street where we can watch the riders zip by, both leaving downtown and arriving back into downtown. They take the corner at such speeds and in such close formation, all leaning into the corner.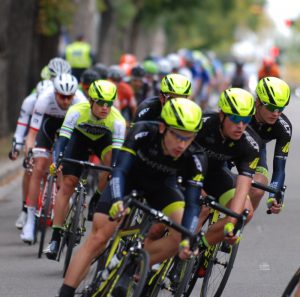 We are now running into friends, who are also taking photos or following the course, just as we are. We wave "Hello" from across the street, or stop for a quick chat.
Next stop is the top of Bellamy Hill, the King of the Mountain climb. We arrive in time to see Danilo Celano, the KOM jersey winner, garner more points by being first up the hill. I think his jersey title is assured, so no one was racing him to the top. The riders seem to handle the hill without even breathing hard.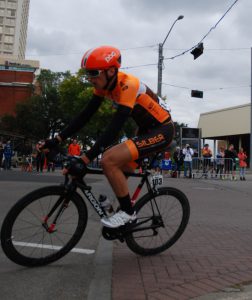 We make our way to the finish line to watch the final few laps. The racers zoom past at what feels like great speed, a blur of colour. A lone rider breaks off to win the stage and it is a group sprint to the end to determine who wins the General Classification. There is a small crash just meters away from where we are standing. Two riders take some time to get up, but they do get up, get back on their bikes and cross the finish line. That is what being an athlete is all about. The crowd gives each of them a huge cheer!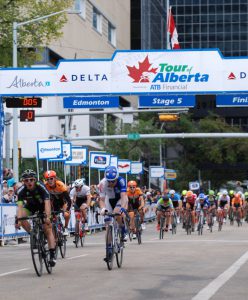 We bump into more friends, this time ladies we swim with and ex workmates. The race is the place to be today, meeting friends and watching great racing.