The forecast is rain. We leave Edmonton, a nice sunny day and it looks like it is going to stay that way. As we progress south we head toward an ominous black sky. It must have something to do with the Tour of Alberta. Last year as we traveled from Drumheller to Black Diamond the skies got blacker and blacker and eventually poured on us all night. Today it starts to drizzle just south of Olds and gains momentum as we head into Calgary. The weatherman says 10cm tonight. We are trying to figure out what to wear as the rain abates but the dark sky still looms. We opt not to ride our bikes and dress for rain. As we approach the site the sky begins to clear.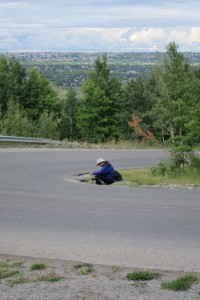 I think the riders are in their buses thinking about how lousy it will be to ride in the rain. The time comes, the race starts and the rain has not arrived. One by one the racers ride by and the rain looks less and less likely.
The prologue is short as prologues are and there is a very steep 1.2km hill at the end. The idea is to split the racers a few seconds apart and set up the GC. All the guys are riding fast from our perspective but there are few that seem to outshine the rest. There is not much strategy, put your head down and go. Go hard.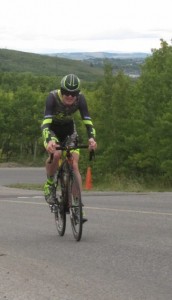 The crowds are not massive but there are quite a few people along the roadside. You can follow the progress of the riders by the wave of sound coming up the hill.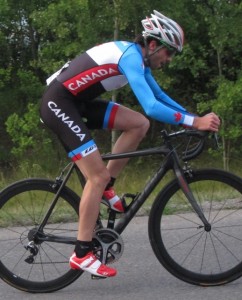 We are ensconced on one of the switchbacks taking photos and cheering the riders as they pass. 118 riders at one minute intervals takes 118 minutes. Still no rain.
The Tour of Albert begins and tomorrow it is Lethbridge. The forecast is rain!