Up early again. Outside temp at Wabasso Campground is a balmy 2 C. We break camp in record time and scoot up Marmot Road. Get stopped at the gates to the ski hill. G & M, folks we met yesterday, are just turning around and we both park just outside the gate. It's 7:30 and now we wait.
We walk up the road to the finish line. We hang out in the lodge, read, chat, watch the clouds lift. We go back down to the car, eat lunch, reorg. We walk back up the hill, sit outside, listen to the entertainment, watch the race live when it comes onto the big screen. When the peleton rounds the corner onto the last climb we walk down the hill to a spot good for cheering and taking photos.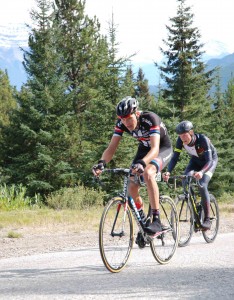 We cheer, I rattle my bell and clap my clapper, Murray takes photos. The peleton is once again spread out over the hill. Another great climb on the Tour of Alberta.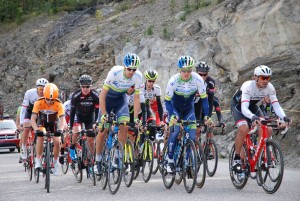 We are going to miss Stage 5 tomorrow as we are attending the ITU Triathlon in Edmonton where Murray has gotten official photographer credentials. (WHO HOO!) We will be in downtown Edmonton for the last stage of the tour. See you then!