Every dive here is a little different and noticeably so. Most places have different sites and the focus is different at each one but generally the landscape is similar. Here the landscape at every site is quite distinct.
Yesterday we arrived at the South Ari Atoll and today we spend the entire day diving here. It is hours across at boat speed so our long surface intervals are taken up by boat relocation.
First dive is Kuda Rah Thila, a marine park with an abundance of marine life. More fish than we have seen elsewhere so far. There are schools of familiar fish moving in unison and a lot of unusual ones too.
A small green mantis shrimp is ducking in and out of a hole, playing hide and seek with my camera. This tiny little beast, about the size of a hot dog, packs quite a punch. The guys tell us if he decides to 'punch' a finger he can break a bone and the legend is if one of these is put into an aquarium it can break the glass. We also saw a Tri-Lined Flatworm. One of the dive masters, from another boat, had picked up the worm on a pointer and had let it drop to the ocean floor and it swam as it fell.  It is these small colorful beasts we look for these days.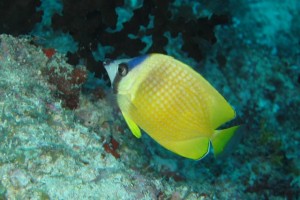 Camel Rock is the next conquest. We plunk ourselves down in the sand and wait for manta rays to arrive at a cleaning station and let the cleaner wrasse brush their teeth. There is a bit of wild life on route but we were out of luck with any mantas showing up. We managed to amaze ourselves playing in the sand attracting goat fish to eat whatever there was concealed.
After we arrive back from our second morning dive the boat motors start up and we head across the atoll to Rahdigga Thila.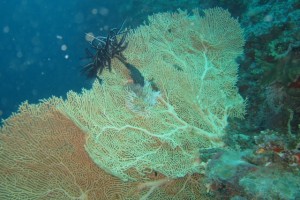 Boat life is so relaxing. The hum of the motor as we cross vast expanses of open water with only a few small islands in view almost drones us to sleep. It is difficult to judge speed, on land things rush by and we are able to know if we are traveling fast, on the water things pass slow but I have a suspicion we are motoring along pretty good. We cover large distances in a few hours. This boat is big enough to move around freely and the about 30 people on board to find their own space and not be under each others' feet. There is a sundeck on the top with tons of room and many sun beds, because it is the upper most deck the lateral sway of the boat is much amplified and it has a tendency to rock us to sleep and the heat warms us through.  The second deck has a few rooms and a bar and Jacuzzi at the rear. Again there is enough room for everyone on the boat to gather at once if we so desire. The main floor has the wheel house a dining room and a small library. The lower deck is all cabins. Every spot ebbs and flows with people and we chat with different folks all day long. It is a good life.
Rahdigga Thila is the last dive of the day. A really great dive. We look for a school of 30 or so reef sharks and then explore the wall at a leisurely pace. The sharks are not congregated where they usually are so we head off. The wall is fantastic; it is covered in soft coral and fish everywhere. We travel at 70 ft. for quite some time and then ease our way up 10ft at a time until we are level with the top of the reef at 15ft just prefect for a safety stop. Good way to end the diving day.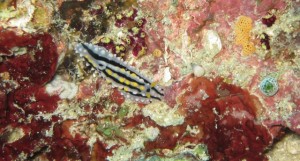 Tonight is the beach barbeque, the tiny skiff takes everyone plus food over to a deserted island in multiple loads. Tables are laid out and a whale shark is sculpted in the sand with beach candles (holes in the sand dug out with a candle placed inside) surrounding our area. There are a number of other boats having BBQs on the island also.
We eat BBQ beef kabobs, fish, prawns and chicken with potatoes, rice, salad and veggies. It is a feast. Everyone is enjoying themselves when we notice the wind pick up. Suddenly the staff is scurrying to gather up everything and they say the rain is coming. It sounds only like wind to me.
We decide to head to the beach to wait for the skiff and as we tip toe through the water, in the dark, the skies open up and it pours. We are soaked in seconds. By the time the skiff comes, we have a group of about 12 people wanting to get back to the Orion. We all pile into the skiff and make capsizing jokes as we precariously motor our way to the mother ship. Hot showers for everyone.
We started the day in the wet on our first dive and ended the day again in the wet.