We have now dove in the north of Dominica (Portsmouth) and mid Island (Salisbury) and there is a different style of diving here than in, say Hawaii or Little Cayman or Virgin Gorda.
The expectation here in Dominica is that we handle our own gear. We haul it to the boat, we set up our own tanks, BCD and regs and we change the tanks between dives. Help is available if we require it, but a diver needs to know how to put gear together.
The crew in Salisbury had us all helping unload the dive boat this afternoon as the waves were knocking it about and they needed to unload quickly. We are fine with this, but some pampered divers may not be.
While diving mid island, we were donning our wetsuits on the shore before boarding the dive boat as the boat was smaller and crowded. Snacks and drinks are not in abundance as with some dive operations.
We are moving to Roseau tomorrow and will see if the dive operation there has similar expectations.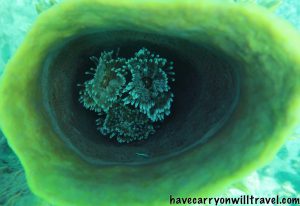 The diving in Dominica is great so don't let a little work deter you from coming to this lovely island.