Dive day number one. We lay in bed before the 6 am wake-up call murmuring about the thoughts that have popped into our heads during the night. Is this water less salty than the Caribbean? Let's descend very close together on the first dive cuz Mur has brand new equipment. On a stride entry, where is the best place to hold my camera? Let's not forget to take the Sudafed to make sure our ears clear as we both have had colds.
We finally roll out of bed with butterflies in our stomachs. Dive briefing is at 6:30 so up we go to grab some toast for Mur and fruit and beef jerky (from home) for me. We listen attentively and then board the dhoni. Looking around, I am glad to see that I am not the only nervous diver.
The first dive is always abit nerve wracking. Is the amount of weight okay? HELL NO! I am overweighted by a ton. Not sure why as this is the weight I used in Cozumel. It takes some time to get my neutral buoyancy. GRRRR! I have to remind myself to keep taking a quick look at Murray, after all he is my buddy. Check your gauges. Watch for the dive master, Maseef. Take pictures.
For the second dive we adjust the weight. I did fine but Mur had some issues as weight fell out of his pocket, or something, and half way through the dive he started floating up. We managed a 45 minute dive, but it wasn't stellar.
We see moray eels, small fish, big fish, red fish, blue fish. Crabs, shrimp, star fish and sea cucumbers. Sleeping nurse shark. Banded coral shrimp. Clark's Anemonefish.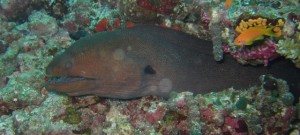 As I write this Murray is off doing a night dive…….with sharks. Darkness AND sharks. No Thanks! Couldn't convince myself to go, so here I sit, safe and dry on the boat.