After packing up, checking out and stowing our bags with the Conceriege, we head out for our last day in Toronto. We go in search of breakfast and locate a small breakfast shop specializing in eggs. We consume large breakfasts and roll out of the restaurant.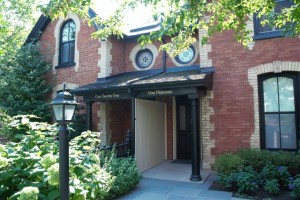 We walk to the north and east quadrant of downtown. Cabbagetown in an area where there are many of the original Victorian houses. They are now made into small apartment complexes, duplexes and single family homes.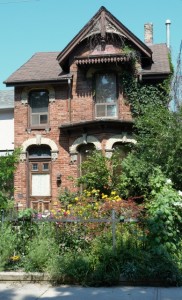 We move from lower income areas to higher income areas and back again. Due to the heat, our walk takes the form of short walks between park benches. We plot the route according to where the green spaces are on the map. When we arrive at a green space, we find a bench in the shade and revel in the slight breeze wafting across our hot bods. As we sit to cool off we watch the world go by.
Being Saturday, parents and kids are out, singles are out, friends are visiting friends and they are out. Everyone is outside enjoying the hot sunny weather and the weekend.
The parks further out are filled with parents and kids, grandmas and grandpas. Picnics. Kids playing in the splash pools with their parents wishing they could join them and be 12 years old again. As we move closer to the downtown the parks' clientele changes. Not so many families and a few more inner city people. And the further in we go, the more street people we see occupying the parks. They are sitting enjoying the sun, sleeping in the shade of a tree, chatting with friends.
We notice that although we do see folks with dogs, we do not see an overabundance of dogs.  In Edmonton, it seems that everyone met has a dog.  Not so here. There is not so much green space for dog enjoyment, yards are tiny or non-existent, housing consists of apartments and condos.
As we wind our way on our walk we notice there are many activities to choose from. A company picnic, a 3 on 3 basketball tournament, FanExpo, a Cuban celebration with live music and a street performers festival. So much happening all in one day!
We end up back at the hotel and wait for the shuttle to the airport. As I write this we are winging our way west towards the ever setting sun and home.