Murray is excited about going cat skiing for a second day. I'm heading to Pincher Creek.
Fifteen minutes down the road and I am in another weather zone.  It is dry, sunny and spring. The 45 km drive to Pincher Creek takes about 35 minutes. I take a back highway (507) and the drive is through rolling hills, grazing land with a view of the snow covered mountain far off in the distance. There are wind turbines dotting the horizon. Must be windy here. I chuckle when I see a group of horses lined up nose to tail with their backs to the wind. They know which way the wind blows!
Pincher Creek is a small town with a population for about 3,700.  It is big enough to have a Tim Horton's, a Rexall Drugs and a few fast food chains. I play tourist and drive around town looking at the houses.  I like to look for old houses and I find one sitting on a prominent hill overlooking Main Street. It was built in 1910 and was owned by a local businessman. It is now an Historical Resource and houses the Applied Arts Council.
As I missed my ski today (and yesterday) I go for a swim at the pool. When I try to pay with a $20, the young fellow tells me all he has for change is a $100 bill so it's okay, no need to pay. WOW! That would never happen in Edmonton! I thank him, wish him a good day and trundle off to swim my laps.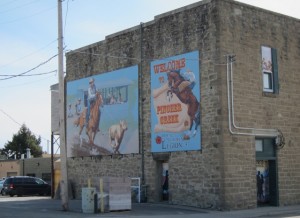 Feeling refreshed, I head back to Castle stopping to take pictures of some building murals. The windows of the building above also had murals covering them. It gave the building a real artsy appeal.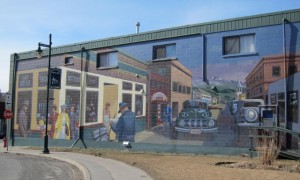 Pincher Creek is a quiet, slow moving town. Main Street is vibrant and there are people out and about. I drive through town and take an alternate route out back onto the highway towards the snow.