I am flying to Abbotstford tomorrow to visit my daughter, who is going to school in Langley. I just finished packing for the two day trip.  Took me about a 1/2 hour. I am ready to go except my purse.  Here is what I did.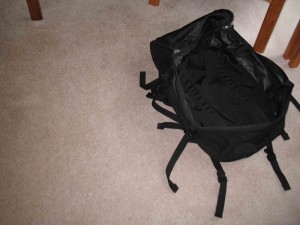 Got my bag out.  Laid it on living room floor (where there was good light for pictures!).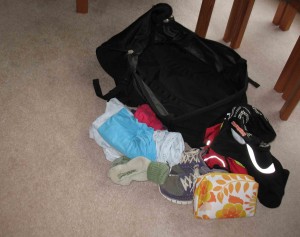 Gathered my running stuff as I plan to run on Saturday morning. It looks like rain in Langley all weekend, so I have to take a running jacket and hat. Taking my Garmin, so I don't get lost! Grabbed some PJs, underwear and a pair of warm socks.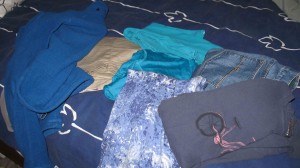 What to wear….It is not much warmer there than it is here, so I had better take some pants.  Jeans, long sleeved t-shirt, socks and underwear for the plane.  Shorts, 2 tops and 1 wool tee.  The wool tee is extra just in case it is colder than I expect. A warm layer – Fuzzy. All mix and match for optimum wearablitiy. Picked up my rain jacket on the way to the living room.
The jeans etc go on the sofa with my rain jacket in the "on the plane" pile.  The shorts, tees and fuzzy go on the floor in the "to be packed" pile. Threw in a scarf. Added some odds and ends to give to my daughter.
Grabbed a 1 litre ziploc and off to the bathroom.  Pulled out my travel cosmetic bag.  Shampoo and conditioner, moisturizers, toothpaste and hair goop into ziploc. Deodorant, floss, toothbrush, face soap, earrings and prescriptions into travel bag. On the way to the living room, grabbed my travel purse and eReader. The travel purse is bigger than  the one I normally carry. I will take it so my eReader will fit inside.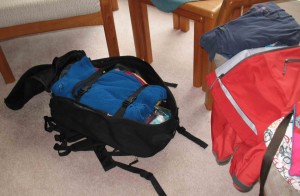 Packing…..Running shoes at the end of the bag.  Layered the clothes with the small cosmetic bag and Garmin bag so the pile extends across the tie down straps.  This will make the bundle tight and secure.  The 1 liter ziploc went at the top end as it will have to be pulled out to go through airport security.     DONE!           READY TO GO!
I am taking more than I really need for 2 days of casual visiting. If I forgot something, I can always borrow from my daughter and Langley does have stores! All that is left is to transfer my wallet, glasses etc from my everyday purse to my travel purse.  I will do this before I go to bed and double check and close my suitcase so I am ready to go in the morning.
See you in a few days!