It just keeps snowing. It is quite a change from last year. The weather sites aren't saying there is any precip. but we keep getting snowed on.
We are out the door reasonably early today. The up track is snowed in. It means more work but it should also result in better skiing when we turn the skis down. Four of us share the tracking today and it makes for quite a light load really. The skis are penetrating the snow only to about boot top, it doesn't sound like much but is does take a toll. A few hundred steps and the leader drops to the back, sort of like riding a bicycle on the velodrome. The snow is great and we are looking forward to a good run down.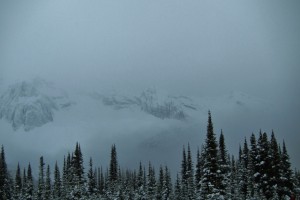 Heather Ridge is our destination. It is cloudy, the light is flat, and we are reluctant to venture above treeline. It's to the last krummholz we go. Skins off, poles shortened, pant zips up, touque on, ski brakes engaged, ski boot to ski mode, point our skis downhill and smiles appear on each of our faces after a turn or two. The snow is great! The area we have chosen to ski today has more than enough room for a dozen or so runs. We hike up and ski down one more time.
When we cross our up track we plunk our butts in the snow for lunch and the sun appears. It remains out till we are about to mount our skis again and the clouds and snow return. Two more runs and the consensus is to return to the lodge. We have 5 more days of skiing left and although it will go fast we have to have enough energy to ski till the end of the week.
Today the snow is boot top to knee depth. Amazing how I get to ski this every time we are out and if I were to frequent resorts it would be only once every two or three years I could ski that much snow. "What a glorious day!", T says as we slide our way along our early morning up track back to the lodge.