Whales in the night. BOOM! As loud and any thunder I have ever heard. We wake up and decide a whale has just breached. The sound echos off the adjacent islands. We drift off again and awake to deep breathing. There are maybe 2 or 3 whales laying very close, blowing. They aren't moving. What a magical way to wake up in the morning. Murray finally decides to get dressed and check them out. Too late, they have moved on.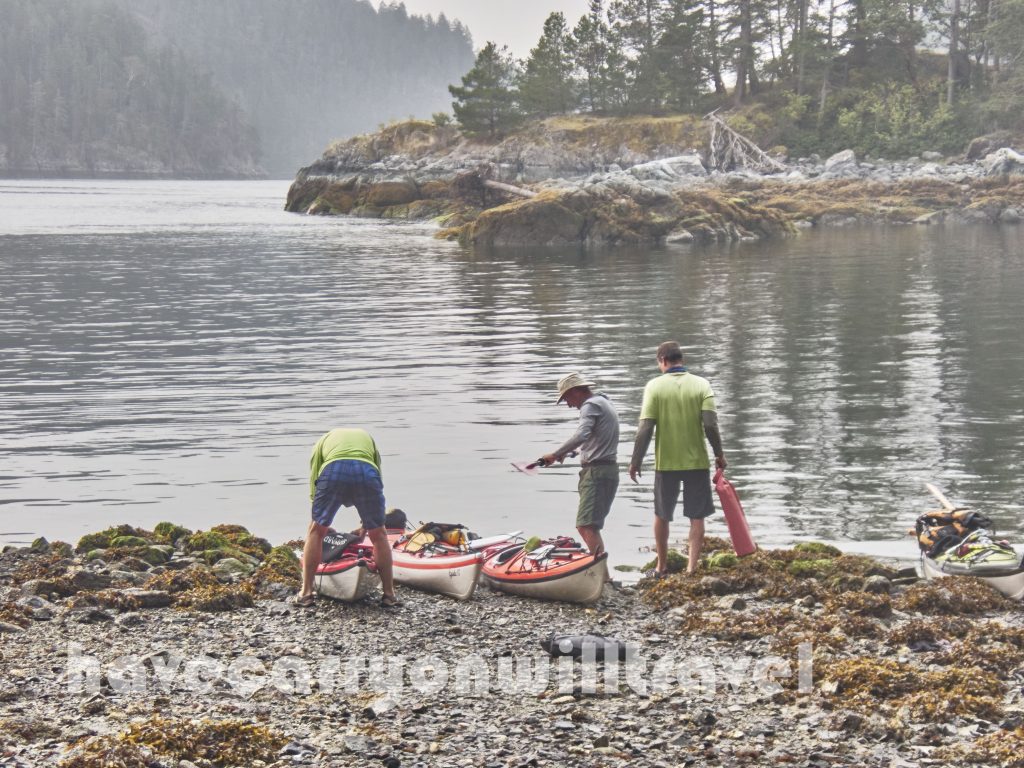 Today's paddle starts with a chore. We have to cross the channel back to the coast of Cortes and the wind and tidal current are against us. We paddle steadily and after about an hour we reach the island and turn north after a quick snack of a granola bar.
As we round the northern point of Cortes and head into Lewis Channel, we are blessed with the current and wind now working for us. Murray, kayaking slightly ahead of the group, has a close encounter with a humpback. The whale surfaces about 15 feet in front of him. There were two and they both dove down, probably swam underneath us and were gone.
We get surprised by a sea lion and his lunch. It is explained that seals and sea lions cannot swallow under water. There is a commotion and we all look to see a sea lion's head pop out of the water with a flopping fish in his mouth. He chomps, swallows and submerges. The birds then swoop down and pick up the head and tail of the poor fish for their lunch.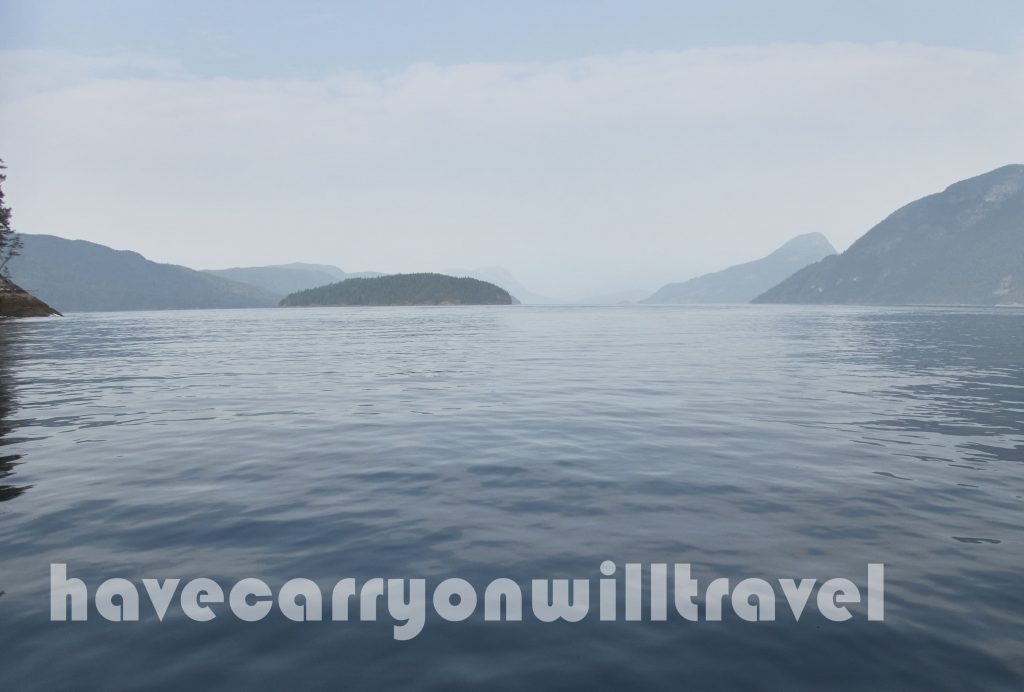 The long views are still obscured today but the medium views have opened up. The short views are crystal clear. We paddle down the Teakerne Arm, located on West Redonda Island, where there is a freshwater waterfall flowing into the ocean. We dock and unload three kayaks on the rocks and then our guides move the kayaks up onto the dock while we schlepp gear up a steep path to a small campsite overlooking the Arm. It has been a long day today and I am tired, but there is a fresh water lake close and a dip is too much of a temptation to ignore.
It is about a 10 minute walk up and down over boulders to Cassel Lake. The "beach" on the lake is a giant rock with a belaying rope for entering and exiting. I bring some tea tree soap for a quick wash, which is kinda humorous as I donned my dirty clothes after. The water was refreshing and it feels good to be clean, even if only for a few minutes.
For me, this trip is all about the art of staying warm and dry. We are wet all day paddling (will have to work on that one as John stayed dry). John uses more of a low angle paddle stroke and the drips from his paddle fall onto the deck of the kayak rather than his skirt. As we paddle along he explains how to imitate his paddling style. My paddle strokes drip water onto my kayak skirt and then when I get out of the kayak, the skirt drains onto my shorts and I am wet. Murray is suffering with the same issue. Once finished paddling and schlepping for the day, I change into my camp clothes (I will write a post about clothes at the end of the trip) and warm up.
The joke after supper is now "How long will Debbie stay awake!" Today, after 21.5 kms, not long.