We travel by boat up one of the creeks that drain into Inle Lake. It is not a creek right now but a torrent. All the rain that fell on us up in the hills during our attempted hike has now worked its way downstream and is flowing into the lake. The current is swift and the banks are almost breached.
We dock at the small village of In Dein to take in the 5 day market. Every five days, the market is held in that location, each day it is held at a different location. We shop for peppercorns, turmeric, shan noodles, elephants, jiggery and cotton pants. Wai Yan is doing his best to find all the items on our combined shopping list with R&L.
There are tourists about but the markets in Myanmar have not yet converted to a 'tourist trap'. The local population still use it to buy the goods they need and there are far more of them than travellers present. Even though the balance is about to tip, to witness commerce as it has been done here since Buddha was a boy is the kind of thing we travel for.
We wander through the market towards the ruins of 1054 ancient pagodas. Many of these pagodas were built in the 13th, 14th, and 15th centuries. They are crumbling; plant life is taking hold everywhere on their structures. Treasure hunters have scavenged the artifacts. One has a Shan style Buddha, the eyebrows are raised, and the torso is slimmer than other Buddha images.
We walk along a well-trodden road towards the top of a hill where there are a forest of renovated pagodas and a temple. Donors pay to renovate a pagoda and have a plaque installed with their name on it. On the way down, we walk inside a portico style walkway with vendors on both sides. We are still finding interesting items that we have not seem elsewhere.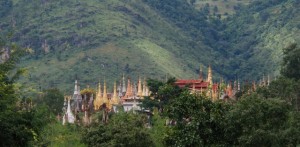 When we entered the area we were asked to pay a camera fee. I instead put my camera away. I did not think I needed more pictures of yet another Buddha, but this temple is very different from the others we have visited. So I tell the guide I want to take some shots and will pay the fee on the way out. Everybody is very agreeable here and really wants to please us so he says that would be OK. Even the non-restored stupas (phaya) are amazingly well preserved and I think the 500 ($.50) kaht camera fee, something I bristle at paying, is worth it.
It is time to start the journey to the airport, so off we go in search of our boat. Yesterday our boat broke down. The saying goes: 'It is not if the boat will break down, it is when will the boat break down'. So today Wei Yan asks the driver if the boat has been fixed and the answer is something like 'all is good'. When we arrive at the jetty for the return trip our boat has disappeared, it is again not operating and we have to search out another ride. We have a plane to catch so time is a bit of a problem. Wei Yan finds an available craft and we are on our way east to Jettytown. The boat ride is a bit of a thrill. Touring by boat is much more interesting than sitting in the back of car and motoring along some 'freeway'.
From here everything is in a bit of a rush. Not to the extreme but unusual for this country. No time to relax at lunch and then a bit of a fast ride to the airport. In fact we arrive with plenty of time and in the end have to wait for the plane which is 20 mins. late.
Yangon is a big city. 5 million people they say, but no one is really sure because the last census was 1983. We arrive at rush hour and the traffic is horrendous. From the air there looks to be very few main roads and everybody is on them. A few years ago in order to present the city as a modern gateway to Myanmar the government in their wisdom banned motor bikes and bicycles. The car import quota was raised and everyone wanting to get around here owns a car. The result; constant traffic jams. We will find out tomorrow how this works in the day.
The hotel is a funny little place close to the downtown area but we cannot determine how close. It has seen better days but is tacky almost to the point of interesting. Odd that the least desirable hotel is our last place to stay in Myanmar. It is quite like our normal standard of hotel so it is OK with us but I would suspect that the average tourist type would be disappointed.
Off the water and back to the land. It shouldn't take long to walk in a line.