September 18, 2020
We leave John and Richard and head to the Saltery Bay Ferry. We want to be on the Sunshine Coast for the night as we want to take the ferry over to Horseshoe Bay in the morning. We have a date to meet up with my sister and brother in law in the Okanagan again and need to be there on the 20th.
We just miss a ferry and end up waiting until the 7:05 pm ferry. Ouch. That will put us into Sechelt about 9:00. Oh well, it's an adventure, right!
It's pitch black and we are driving around Porpoise Bay Provincial Park Campground and there is not one available campsite. We resign ourselves to maybe staying in a motel, so leave there and drive through Sechelt. We cannot find one decent motel! And our standards are not high! Where is all the accommodation?
We drive south and stop at Roberts Creek Campground. Ah, that is the reason why Porpoise Bay is full. Roberts Creek Campground is shut down, closed, blocked off. What?
With nothing else to do we drive toward Gibsons, talking about options. Sleeping in the car – nope, ditch camping – would rather not, motel – hopefully, private campground – ok. By the time we get to Gibsons it is nearing 10:00. We drive the main street and, lo!, there is a motel office with its lights on and a woman sitting at the desk! We turn, I jump out and after a few minutes and $113, we have a room to sleep in. (This was our only motel stay in two and a half weeks of camping. We also ate our only restaurant/take out food this night as we did not have groceries to prepare some sort of supper.)
It was good to have a real shower. We threw our kayaking clothes in the bottom of the tub and they rinsed while we both showered. Boy were they dirty. Even though they will be wet for a few days, they won't be salty and smelly.
We crash by midnight and we both find the room too hot and the bed too soft, but boy we are clean!
September 19, 2020
We are both awake by 6:00 am. The ferry is at 8:40 and the lady at the motel office suggested we get there by at least 7:30 as it is Saturday and the ferry does get busy. We just get up, pack up and take off. We are at the ferry shortly after 7:00 and are second in the line of folks without reservations. By 7:40, the terminal is packed. On a Saturday morning? Where is everyone going?
We sail across and drive from Horseshoe Bay to Chilliwack on the Saturday, not so Indy-500 this time. Everyone must still be sleeping! We go into the Chilliwack Safeway to stock up on groceries for the next 4 days. After the aloneness of the water, the grocery store is a zoo! We grab what we need and scram outta there.
We want to make is as far east as we reasonably can today. Mostly to get somewhere warm. We stop at one of the Manning Park Campgrounds for lunch. Manning Park looks like a great area, but it is higher in elevation, so we do not want to deal with the cold night and morning.
As we set up our meager lunch, an uninvited guest tries to sidle in for his share. Nonchalant like, turning his head this way and that, trying not to be too obvious. But he is. We tell him "We don't have anything for him", but he just won't take our word. Murray escorts him across the road a couple of times, but he keeps coming back. The nerve! As we finish our lunch, Murray accidentally drops a couple of Cheezies. Our uninvited guest can't wait to gobble them up and doesn't even wait for me to move away. Lucky raven!
The Hope to Princeton drive along Hwy 3 is scenic, with a twisty, turny road and lots of up and down. There are now many kms of 4 lane highway and passing lanes so the driving is less stressful.
As we drive east, we talk a lot about our paddle strokes. I am eager to try my new stroke in my own kayak on Okanagan Lake. I used a rudder the whole time on the tour and also want to see if I can paddle in a straight line once again on top of using my new stroke.
After Princeton there is a campground called Stemwinder Provincial Park Campground, which is our destination. Once we get there and are looking for a site, we realize that the highway is right beside the campground and the noise, especially at night, will be bothersome. We would stay there in a crunch, but it is still only about 3:00, so we backtrack to where we saw another sign.
We turn onto the Old Hedley Road between Princeton and Keremeos. It is across the river from the highway so the noise is not so noticeable. There are two Recreation Areas along the road and they are pretty much empty. A recreation areas have green signs, as opposed to blue for provincial parks, are more rustic with only outhouses, no water, no garbage cans and a $15 camp fee (which was never collected!). Perfect!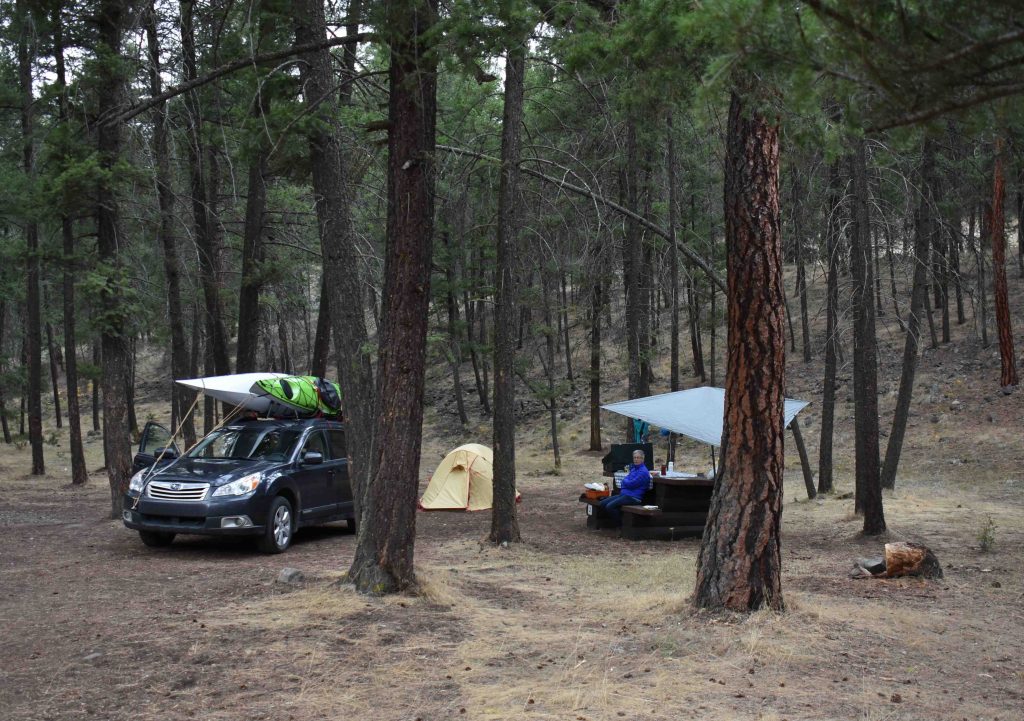 We set up our camp, hang our wet laundry on a line, make supper and then collapse. We retire when it gets dark and allow ourselves to fall asleep early.