The roses are smelling stronger. We keep seeing smaller and less significant things. Flowers on the side of the trail. Clouds that look like a zeppelin or a dog chasing a rabbit or something.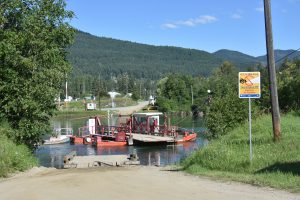 On the way to Vernon and the swim across Okanagan Lake in Kelowna I notice a very small sign on the side of the highway stating there is a provincial ferry that crosses the Thompson River at Little Fort. Debbie has a quick look at our PAPER map and notices there is a road on the other side of the river that would meet up with the highway again 30 or so kilometers on in Barriere. We discuss and quickly decide to stop at the ferry and ask about the road. The young lady ferry operator tells me it is gravel and would take maybe 45 minutes. We throw caution to the wind and choose the gravel road. I think it is the right choice. The scent of rose is super strong.
The road is almost gravel. It was maybe graded last November so the going is slow which allows for a bit more sight seeing, at least for the passenger. We skirt a wonderful alpine lake, Dunn Lake, for about 1/2 an hour. Shortly there after we are back in the Thompson River valley and passing backcountry farms. We are soon in Barriere and joining in the crowds of cars that had started their trip south since we left the highway. We had passed 2 vehicles the entire time on the gravel trail and now we have to join the rat race once more.
I remember when I was in my late teens and twenties doing stuff like that. See a pending adventure and head off without much planning to explore what might await us. Then conservative, always in a rush, middle age crept in and we would chose a well planned, efficient route to what ever we were doing. I turned 65 the other day and I think that means I am officially old. Funny how things seem to be reverting back to a younger time. If it continues I will soon be spending late nights watching live music into the wee hours of the morning.