We have a busy weekend coming up, so last night we got out the packing list and went through the "diving", "clothing" and "other stuff" lists and pulled out the items we had not gotten yet. We highlighted in yellow the items on the list as we found them. Then we packed our bags to see how everything was fitting.
I find packing my bag difficult due to my fins. They go in the bottom of the bag crossed, one on top of the other, with the heels at the one end and the toes at the other. I stuff clothes and small stuff in all the nooks and crannies and then tuck soft stuff around the edges, making sure I protect the fragile stuff (camera and housing and dive mask). Then the wetsuit goes on top for padding.
This is what my bag looks like so far. The wetsuit got covered up by my hat, dive log, snorkel and sarong. I keep the sarong close to the top as I use it as warmth on the plane. In the back of the picture is a day pack and cloth bag. We are trying to decide which to take.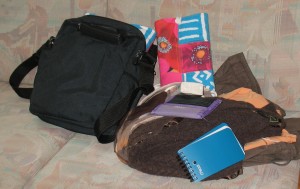 Here are my airplane clothes and purse items. Today I will tidy this pile up, add a few things (pens, kleenex) to the purse and iron my pants.
Mur is much better at packing than I am. His suitcase always looks neater than mine. Why is that?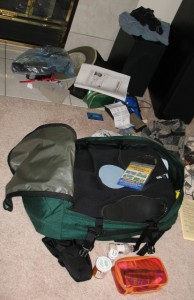 The pile in the back is Murray's airplane clothes and courier bag contents. His suitcase looks pretty full, with just a few last items to go in.
We weighed the bags and Mur's is 18 lbs and mine is 20 lbs. We still have our toiletries and some miscellaneous stuff to go. We will be pushing the Air Canada weight limit of 22 lbs. If we are told that a bag is too heavy, we will just take something out and slip it into our purse. A dive light, with the batteries in it, weighs about 2 pounds.
Last night we also did some other stuff too – sewing a rip in my hat, purchasing ebooks to read, cancelling the newspaper. We decided to take 2 kinds of laundry detergent – the new leaf kind from Sea to Summit and a small amount of powder Tide. We are piling the liquids in the bathroom to pack in the 1 litre ziplocs. That pile is getting large – we may have to cul. I'll take a look at that in the next couple of days. I like to leave lots of time to pack and check that everything fits. Better decisions are made when I am not rushed.