After a week of staying put in the Gold Coast we hit the road headed south to Coffs Harbour. A couple of former Snow Valley employees moved here and since we are within driving distance a visit is in the offing.
When in tourist central and it is a travel day it is best to get up before the masses and get on the road. 9am we are on the highway. M1 is still quite crowded but our plan will take us inland on smaller highways. Hoping the lemmings will follow each other down the main highway, we expect much less traffic.
The road is small, really small. I'm thinking I might clip the mirror of the oncoming vehicles. It is still 100kph though. This road is taking us up into the mountains. Twisty, turny, no straight what so ever road. The scenery is fantasic. There are a few farm/ranches about but most of the area is forested and completely covered. As we guessed, it is Sunday and the traffic is very light. Never in a line up. As we are playing tourist and not in a hurry we find places to pull over and let those with somewhere to go pass.
Over the first range of mountains and we are on a sort of plateau. To us it is reminisent of the Alberta. All cleared with rolling hills like our foothills.k
As lunch time approaches we start to look for a cafe or the like so we can eat. Again I will say it is Sunday. I remember Sunday in New Zealand a few years ago and having to forgo lunch because Sunday is a day off. Well, seems as though Sunday in the hinterland of Aus is also a day off. We eventually find a small city big enough to have a few places open, Grafton. On the main street Debbie spots a few folks seated at tables outside an open establishment. We stop. I Scream is open and they serve not only ice cream but burgers. Lunch has been found. And damn the milkshake is good. If you happen to be in Grafton, New South Wales have a milkshake. It is well worth the time and expense.
Coffs Harbour is another small city but it is on the main highway and there are a few things open. It is not bustling but at least it is not sealed up. We had done some research on hotels here so we knew a couple of places to try. Drove by one of them without even seeing it but found another on our list without much trouble. Pretty standard motel but nice enough.
The owner has taken up a hobby of feeding the lorikeets twice a day and we are around when the 4 o'clock feeding takes place. The birds must have a clock in their stomach because they arrive about 5 minutes early and make a hell of a racket. We duck outside and the pool area is chaulk full of birds. Bright green birds with orange and red and yellow feathers. Not afraid of us at all and screaming like mad.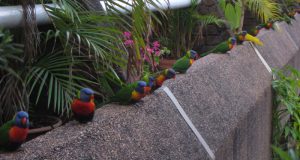 Then the food arrives and they go nuts. The nice fellow lets Debbie hold the pan with the bread soaked in maple syrup and the birds befriend her quickly. Sitting on her shoulder or head or wherever they can grab on.
We connect with T & S late in the afternoon and have a chat catching up on each others lives and our common ground. Like the happenings at Snow Valley, etc.
There is a happening place in Coffs Harbour, it is Hoey Moeys. Bar is packed and a live band is playing when we walk in at 6.30. Odd because most places on earth normally have bands that don't start until 8 or later but here it seems they are packing it in at 7. The attached restaurant is also packed. Food is only OK and it is somewhat pricey but the portions are large and that would appeal to the younger crowd seeming to frequent the place.
A couple of random thoughts. Street lighting in Aus is terrible. For the most part it is dark. There are lights at intervals but between is blackness. Our back alley is lit better than all but the most main roads. It makes for less light pollution but it is quite hard to drive or walk as the light is intermittent.
And we made it all the way from Cairns to Coffs Harbour using paper maps. How 20th century. But as those that try to sail the Atlantic Ocean in a paper boat or walk the Camino de Santiago using the medieval pathway we were able to use ancient technology to traverse our way 2000 km down the coast of Queensland and only got off on a tangent a couple of times.
Our journey southward is complete and the last leg was somewhat different but very pleasent. Tomorrow we will explore Coffs with our friends and then double back to the north and Southport for one more night.