Our first stop today is the Design Museum Denmark. There are extensive exhibits of early Japanese art, Toulouse Letrec posters, Danish chairs, modern Danish furniture,  and even a Ming Dynasty vase from between 1400 and 1600. Very interesting but boy, a lot to look at.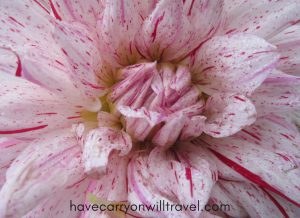 The SMK National Gallery of Denmark is the next stop. Paintings mostly and a few sculptures. I am always enthralled to gaze at works of Matisse, Rembrandt, Picasso, Diego. These artists had such talent and it was not just in painting, but in sculpting or weaving or other art forms. I stop to admire a sculpture of a woman, my size, dressed for an outing, and so real looking she might just be frozen in time for a second.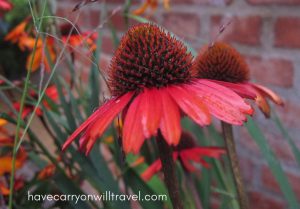 For something completely different, the next stop is Rosenberg Castle, Christian IV's residence some 400 years ago. We stroll through most of the rooms, cranking our necks to see the cherubs in plaster on the ceilings. The best part was the Treasury with the jewels and gold. It is simply stunning, the various jewels set in rings, crowns, necklaces, earrings and goblets.
Lunch, we stop for a much needed break and food at a market more for locals than tourists. Noisy and busy, but good quiche and pizza.
The Round Tower is next and we walk up and up not on stairs but an incline inside the tower until almost the top, where we troop up a short flight of tight circular stairs. Outside on the viewing platform we can see over the rooftops and pick out the landmarks of Copenhagen.
On the way down, we stop in at a small gallery showing large tapestries. A pleasant surprise as they are all exquisite.
Our last stop of the day is Tivoli Gardens. We arrive at 5 pm just when the parade starts. It is a Disneyland sort of parade but much shorter. Cute and well done with smiley performers. We wander around Tivoli Gardens and through the amusement ride end. I can see the draw on a summer day, sitting on the lawn eating ice cream, but in the drizzling rain, I am not sure.
Five museums/attractions in one day. Tired feet but satisfied.