I arm wrestled Murray to pull out clothing for the Bonaire trip…I WON!  The Clothing List page is now up under the Packing List Menu item.  For Bonaire, we have crossed off the following items from the list:
Boxer Shorts (not sure why this is still on our list – we don't wear them!)
Gloves
Jacket
Long Underwear
Pants
Rainwear
Running Gear
Toque
Skirt (am taking a sun dress though)
Walking Shoes
Wool Layer
We are anticipating hot, hot weather.  If it rains, it won't be cold, and we'll deal with it – maybe run into the ocean!
Generally, we break up our clothing into groups.  Daytime clothes, evening clothes and airplane clothes.  Daytime clothes get sweaty, dirty, salty and sandy.  They should be cool, comfortable and protect you from the sun. Evening clothes, on the other hand, stay cleaner. They are worn to a restaurant, a bar, for a stroll – the temperature is cooler and they are not worn for hours on end.  Airplane clothes will double as either daytime or evening clothes, depending on the trip.  For this trip, my airplane clothes will also be evening clothes.
Debbie's Airplane (and Evening) Clothes
Brown linen capri length pants (for warmth on the plane)
Orange T shirt
Brown light wool blend sweater
Scarf for around neck to hide necksafe
Underwear/Bra
Sport sandals
Socks (carried in purse in case my feet get cold)
Debbie's Evening Clothes
Sun dress
T Shirt that matches brown capris
Jewelery
So, now you are saying "WHAT!  That's all she's taking for evening?" I will have 3 outfits to wear over 8 evenings.  I figure that is pretty good! Truth be told, if Murray and I were going by ourselves, I would be leaving the extra T shirt at home, but we are traveling with friends, so a bit of vanity is rearing its ugly head.  Murray and I went to Cozumel for about a week and I took a sundress to wear at night, which I wore every night out for dinner.
I only take jewelery that I won't be upset to loose.  Leave the gold and diamonds and silver in the safety deposit box! I take earrings and necklaces to wear at night.  My watch is a green plastic sports watch made by Roots.
Debbie's Daytime Clothes
Orange long sleeved lightweight linen tunic style shirt
Blue technical material shorts
Sarong
Long sleeved shirt to wear snorkeling
Debbie's Other Clothes
Sun hat
Flip flops
Small purse
Swim suits (2)
Underwear (2)
Lightweight T shirt for PJs
The linen shirt and shorts are for those day excursions that require us to be dressed – biking, shopping, etc. They both wash and dry nicely. The sarong will be worn to and from diving, to eat breakfast and maybe lunch in.  I tie it various ways so it can be a different look everyday! The snorkel shirt is not just for snorkeling – it can be used to throw over my swimsuit if needed.
A sun hat is a must on a tropical holiday.  I firmly believe that a sun hat has to have a wide brim.  A ball cap just doesn't do it.  A wide brim covers face and ears and neck and some shoulder.  I have gone through many wide brimmed hats.  Right now, I have a "Classic Sun Hat" from Lee Valley Tools .  It squishes for easy packing, is washable and looks not to bad.  Tilley Hats have a number of wide brimmed hats also – I have an older version of their Women's Raffia Hat.
I am taking a cheap pair of flip flops to Bonaire to wear to travel in the truck to and from shore dives.  We have read to leave the truck unlocked, so if these do get stolen, it won't break my heart. You will see that I am only taking a pair of sport sandals and a pair of flip flops. My sport sandals are from Ecco and are slightly dressy, so I am fine with wearing them with a sun dress.  The conditions of the roads and streets are always an unknown so I like to wear flats.
I am going to take a small purse to carry in the evenings.  My purse, to carry the netbook on the airplane, will be too big for evening.  This is an extravagance!
I take two swimsuits on dive trips. Over the years, I have learned that sometimes my core does not warm up sufficiently between dives, so it is useful to have a dry swimsuit to change into.  Or, if diving in the morning, eating lunch and then going to a far beach in the afternoon, I will change swimsuits so I start out dry.  I sometimes get stomach aches from a wet swimsuit….weird, I know.
There will be only two pairs of undies in my suitcase.  We will be taking laundry detergent and it is not hardship to wash out undies every couple of days.  I am only taking one bra – basically for evening.  I think I will live in my swimsuit during the day – who needs a bra! I am taking an old very lightweight T shirt to sleep in if I need it.
My pile on the living room floor now looks like this.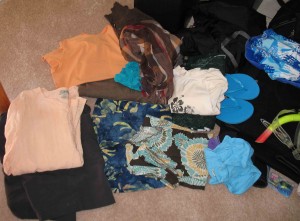 As I said before, I will look at this pile when I walk through the living room and say to myself "Do I really need to take that?". By the time we go, I will be sure I should be packing what is on the floor.  Who knows, maybe I will leave that extra shirt behind!
Murray's clothes will follow in the next post.