These last two day have been chill days. Yesterday, we checked out tour agents to see if we could dive a site called Kicker Rock near San Cristabal Island. No go. The few dive boats that were going out were booked. We had enough folks to fill another boat but there are restrictions on the number of divers that can dive any given site on any given day and the quota had been filled.
R, our friend from DC, and our newly minted friends from the dive cruise opted to snorkel at Bahia Tijeretas and swim at Playa Carolas. An easy day of walking, snorkeling, getting rained on and sharing dive experiences with new friends over drinks.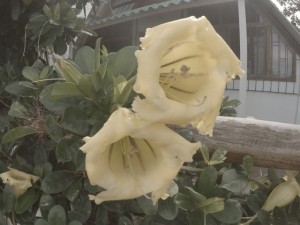 Today, we learn something new. Book your spot on the inter-island ferry early. Not to ensure a ride but to get preferential treatment. We booked two days ago. Two tickets for the 7am ferry on May 19, por favor. Today in the crush at the top of the gang way, when it is time to hand over bags for loading, Debbie hears the lady call, "Murray and Deborah". Our bags get loaded first. Looks like we are on the boat for sure. As the others hand over their bags the crowd around the entrance gets tighter and denser. As it is time to load, our names are again called and we are able to load first and chose our seats. It is good to be first on the list!
The boat is a smallish seagoing boat with a cabin which holds 20 passengers and has 3 – 200 HP engines. Quite fast for a ferry. We covered 47 N Miles in 1 hour 43 minutes. A might rough but not too bad. Some sections are actually very calm. There is a pod of dolphins playing in the wake and I see one flying fish.
Puerto Ayora has not changed one bit since we were last here (two days ago). A few more cars and the shops are mostly open instead of mostly closed. But other than that it is the same.
Debbie isn't feeling well so I scout the town, finally get to try an empanada for lunch and procure french fries to take to Debbie. Later in the afternoon we walk to the Darwin Research Centre to take a look at the baby tortoises and the land iguanas. We get soaked for the second time on this island. Seems to be a recurring theme.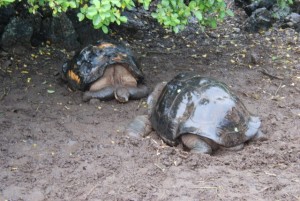 It was a chill day and we are back in our room, with Debbie dozing and me writing.