We spend our day today at Candelaria Hacienda. It is a break from riding in a vehicle for long periods of time. We are learning new skills.
We start with baking buns. Elizabeth, the owner of the hacienda, mixes the dough, with the help of J, in great quantities, explaining to us the ingredients she is using. We leave the dough to "sleep" and Liz, our tour guide and daughter of the owner, takes us on a tour of the hacienda. There is a chapel dating back to the Jesuits in the 1600's. We view the museum that is being created, the grain storage, corn storage and surrounding land. We are visiting as winter is turning to spring, so the fields are brown. This area would be a wonderful sight when all is green and ripe.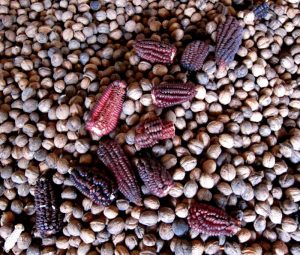 Once the dough has risen, we crowd back into the kitchen to knead it and make the buns. I knead bread for the first time in my life. After a rough start and some advice, I get the hang of it and knead about four small blobs. Some of our fellow travelers, A and J, are obviously make bread as they are expert kneaders.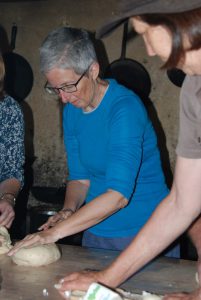 Bun sized orbs are formed by the group of T, J and Liz, and set out on a tablecloth to rest some more.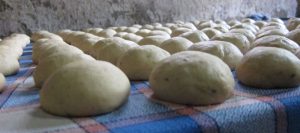 We go watch the adobe brick oven's fire being lit. And then we return to the kitchen to flatten the orbs into small pancake sized buns. The oven cooks a thinner bun much better than a thick bun, so these are flat. It doesn't take long to cook them and we get to sample our hard work.
After lunch of vegetable soup and picante chicken with pasta, we learn how to spin and dye wool and weave. Spinning wool onto a large bobbin is much harder than it looks, I keep breaking it by pulling too hard. The young girl showing me is very patient and laughs along with me. Murray tries spinning a finer thread and the local women have fun with him.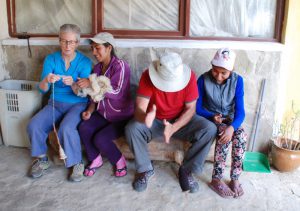 Dying wool is an art that only master dyers perform. The 70 year old dyer creates four colours – yellow, magenta, orange and green. The green starts out blue, but they do not use the colour blue in their weaving, so she takes out the wool, adds some yellow and creates a lovely green. All the colours are vibrant.
Once the wool is dyed, it is spun again to make finer thread which is used for weaving. There are two ladies weaving and we are encouraged to try. I weave part of one line with the weaver instructing me in Quechea (ie no idea what she is saying!) about which threads to pick up. I must have looked like I knew what I was doing because the weaver told Liz that I was good.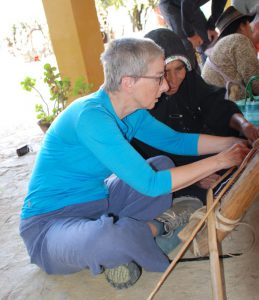 Shopping comes next and everyone purchases items such as wall hangings, purses, bookmarks and table runners. We have fun bargaining with the ladies and both sellers and buyers leave happy.
It is a relaxing day full of learning and laughter at Candelaria Hacienda.