COVID 19 has dashed all of our travel plans for this year. A scuba dive live-aboard in Cuba in April, reschduled. A scuba dive trip to Roatan, cancelled. Tours through Madagascar and Nambia, rescheduled. So where should we travel?? Alberta! No borders to cross and no long hours travelling.
We load up our camping gear and kayaks and drive about two hours south east of Edmonton to Big Knife Provincial Park. It is along Hwy 855, near Forestburg, along the Battle River.
The campground is first come first served so no reservations are needed. It has a walk in tenting area but it is dark and, mostly likely, mosquito infested. We decide on a site in Circle A, the RV and trailer side. The sites are large (to accommodate those big fifth wheels) and a slightly more open to everyone's business than we like. But they are pretty nice sites and we choose one that will get morning sun and afternoon shade.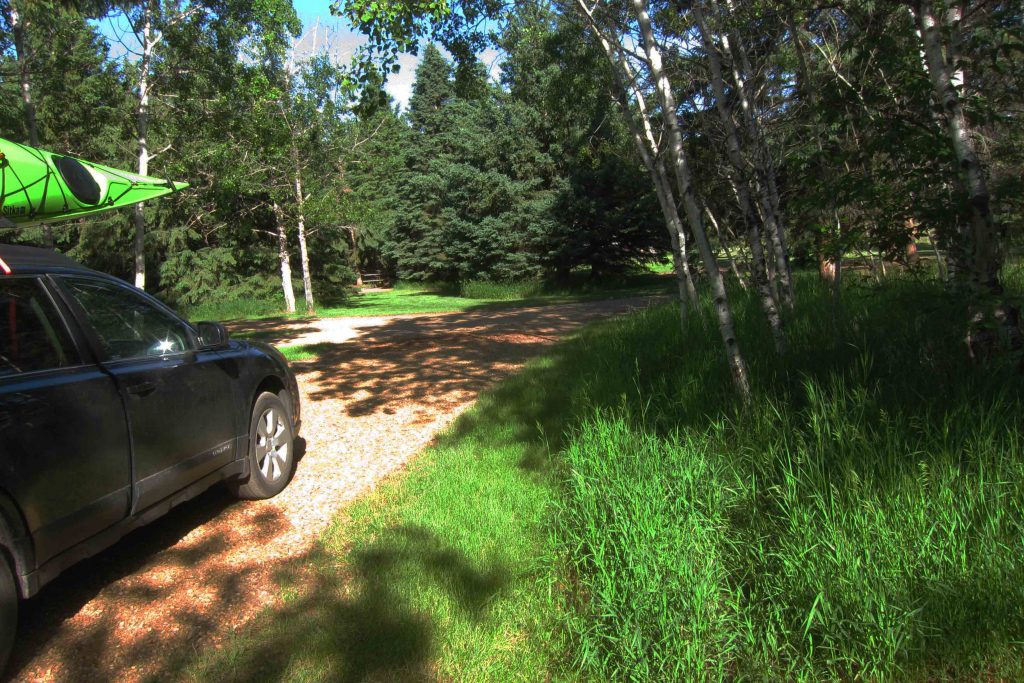 While cooking one day, we notice that we do not hear others cooking and sharing meals. It is quite quiet. We are the only ones outside doing this domestic chore, everyone else is inside.
The campground is nicer than I expected, with a playground, mowed areas, a boat launch, pit toilets and group camping (now closed). It has only 40 sites and since they are wide apart every site is usable. There are a couple of hiking trails, one to some hoodoos. We walk there one evening and supply some mosquitoes with their supper and are slightly underwhelmed with the hoodoo.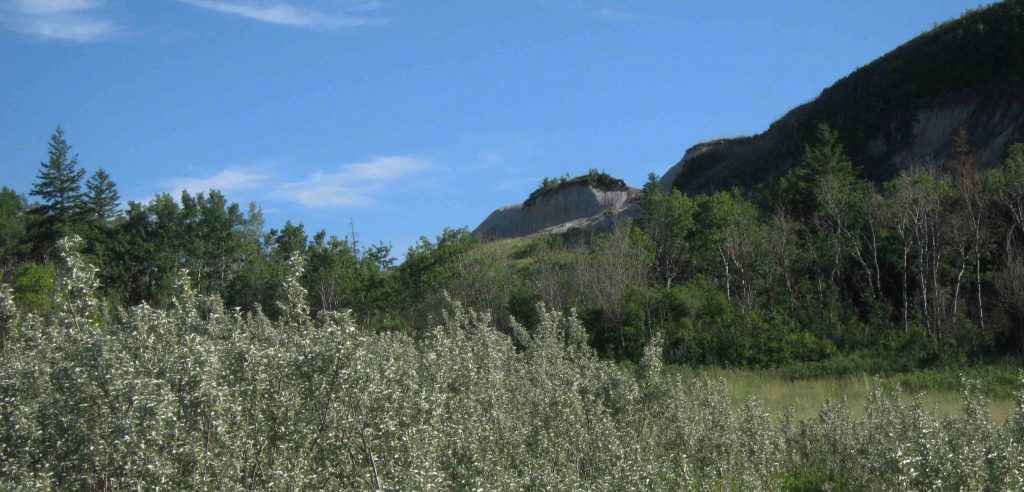 Kayaking is a joy on the Battle River, especially for a novice like me. The flow rate is extremely low so paddling upstream is not a chore. On our first day we paddle upstream for 50 minutes, turn around and come back in 25 minutes. We spy muskrats, ducks, cows, coots and a crane that we chase down the river.
After lunch, we paddle downstream to where the river widens out and becomes rather lake like. On the way back, we take a detour around an island and go further than we had planned. By the time we arrive at the boat launch I have very tired shoulders and core. We had picked the perfect day to spend on the water in our kayaks.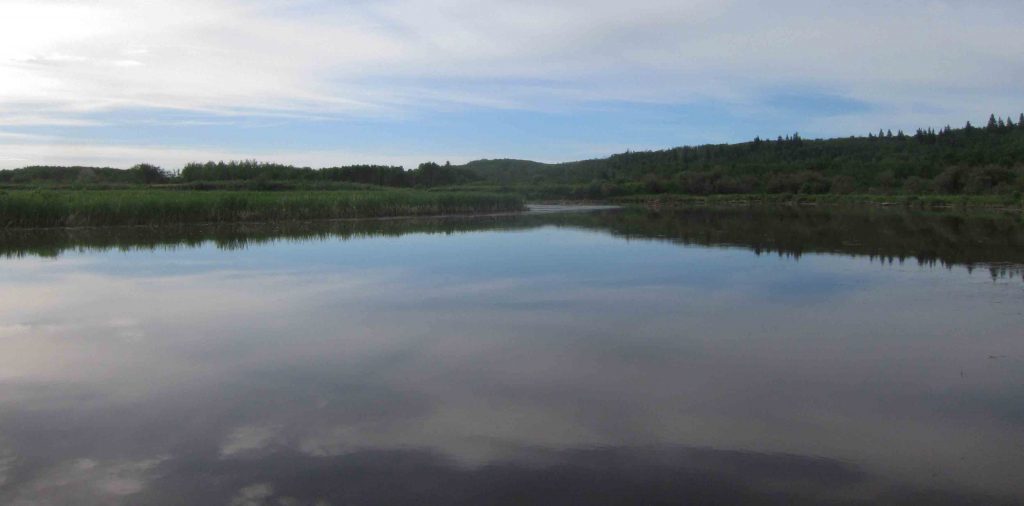 We spend the afternoon visiting with M & G who arrived while we are paddling. We maintain a social distance and have a great visit. The next morning, the four of us launch our kayaks and paddle up river. We go further than the day before and spot deer, pelicans, lots of tracks in the mud and a couple of carcasses. It is nice to visit and share observances with fellow paddlers.
On the drive home Murray and I make a brief stop at the Diplomat Mine Interpretive Site. We realize that we tend to get in car and just drive from point A to point B, so we are trying to visit interesting side stops. The Diplomat Mine, a strip mine, began operation in 1956 and supplied many customers with coal, including the Battle River Generating Station. A Marion 360, the largest shovel in Canada at that time, removed the overburden and another huge shovel loaded the coal into a hauler.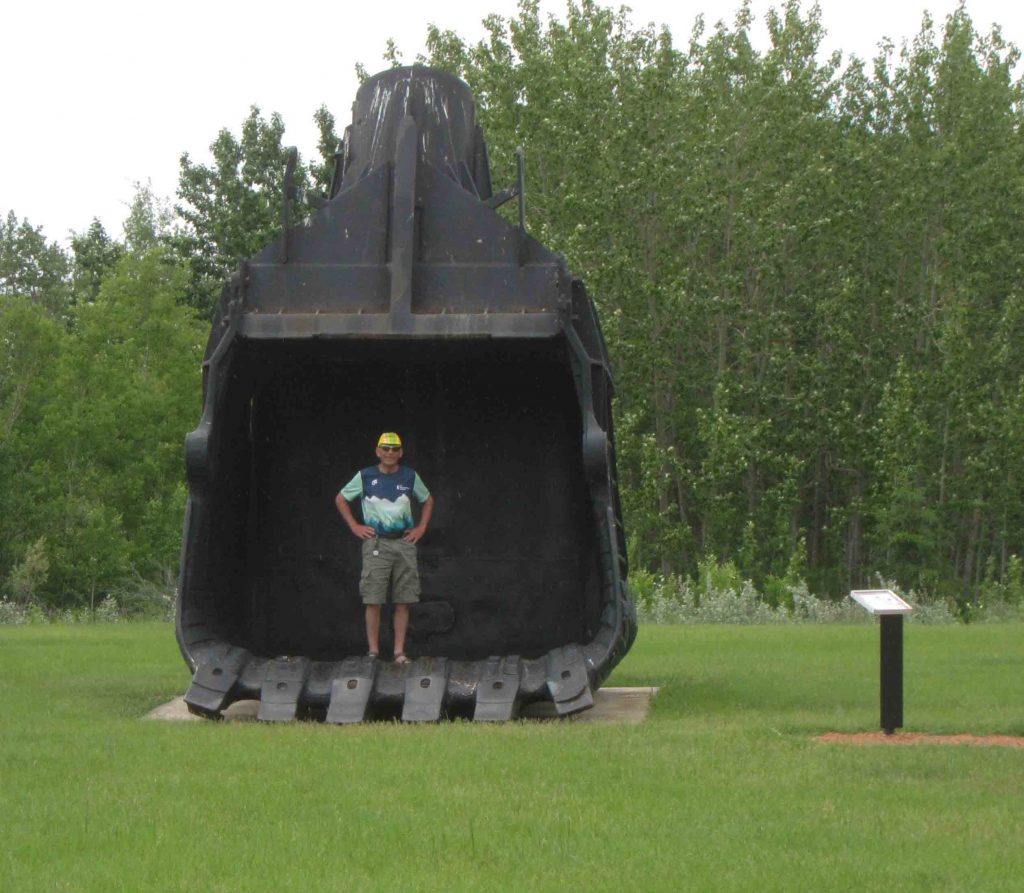 To increase capacity at the mine in 1962, the Bucyrus-Erie 950-B was brought in and was able to remove three times the quantity of overburden than the Marion 360. The machine was dismantled and all that remains on the site is the bucket.
On our drive home, we cruise by a pond with a beaver lodge in the middle and, lucky beaver, he had a satellite dish poked into the top of his house. I wonder how many channels he gets!
Our international travel plans have been disrupted so we are enjoying local travel, exploring new places for us that involve water and kayaking. Where to next?