We are eyeing up a run called Josephine's today. It more or less faces north and should not have been affected by the sun or the wind.
It is a real easy start. Two kilometers on a slightly down sloping sled track. We turn up hill on an existing uptrack mostly snowed in but easily traceable. It is an excellent track, steep only where it has to be and through the trees, safe all the way to where we want to ski.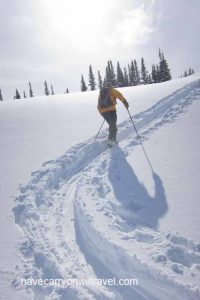 The snow is wet. It must have been warm last night. There is about a foot of penetration but it is very heavy. Thinking the skiing is not going to be ideal we ponder whether or not we made the wrong choice. We continue anyway.
It is lunch time when we reach the high point of our day's plan. Finding a spot in the shelter of a stand of trees our table overlooks the entire valley. You can't pay for the view we have. Mountains covered in snow sculptured by the wind creating a landscape out of a dream.
Surveying the slope below we find the route we want to ski. It shouldn't be any trouble. Off to the side of the main avalanche chute and not super steep. We make the decision to descend one at time anyway. If there is a slide theoretically only one will get caught and there should be 5 observers.
From the first turns the skiing is excellent. Considering what we felt on the up route it is way beyond our expectations. The run is so long the snow texture changes 3 times on the way down. A little more wind, a little warmer temperature, a slight change in the orientation of the slope all contributed to making the skiing a bit different.
After a short bush-wack, it's on to the up track and follow the ski-do track home. We only had one run today but it was the run to have. 500ish meters of vertical and wonderful snow quality. If we come back to this area I will campaign for an earlier start so we have time to ski it twice.
Another fine day with smiles so big the side of our mouths distort our ears!