A bad day skiing is better than a good day at work, so they say. West Nile is the destination. It has been warm in the mountains. The snow has been melting and the surface is crusty. We hope that the higher reaches would not be affected by the weather. They were. The skiing at the very top is OK but certainly not what I am used to in the backcountry.
Our day starts with a river crossing. On a usual winter, one has their choice of snow bridges to cross the Bow River. Today the uptrack ends at a bridge consisting of several snow chunks in the middle of the flowing stream. So we follow the edge of the river passed several other collapsed snow bridges. We happen upon an east/west section of water that was slightly shaded from the sun and there looks to be enough ice for us to cross. One at a time we took our chances and we made it to the other side. We found the uptrack on the flipside and up we went. Half way up J and I had a talk about coming down. We both thought it would be "interesting".
At the top we sit in the sun and eat lunch. A perfect lunch spot as usual. It is hard to mess up the choice of lunch spots with some of the best scenery in the world as your wall paper. The snow at treeline is skiable and we get in 20 or 30 pretty good turns.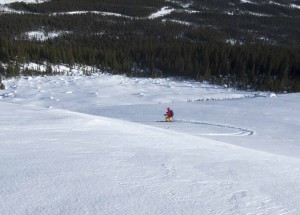 The moment we duck into the trees the snow is so crusty we can not turn our feet. We slide on a shallow traverse and sideslip all the way down. It takes time but it is the safest and most effective way of descending.
We arrive back at our snow bridge to find half of it has disappeared. The flowing water of the river has eaten away a good chunk of the upstream ice and we are again concerned about its stability. We cross one at a time and no one gets wet. That crossing may not exist by the end of tomorrow and if anyone gets across in the morning it may be a long hike to find a way back at the end of the day. We aren't going there.
The skiing was bad, the walk was OK. It may be that I won't get good skiing this year. There has been a couple of good days but to catch those, you have to be a mountain resident. Edmonton is too far to head for the hills on the spur of a moment. None of this will deter me and I am off again tomorrow in search of those elusive turns.