I packed my bags on the weekend and decided to check a bag. I did not realize how heavy children's books are! The small pile of five books is heavier than I imagined, so a checked bag it is. The bag is surprisingly full, but I am taking some clothing I do not normally travel with.
Sweat pants, warm shirt and fuzzy for lounging in
Workout clothes, plus sneakers
Beach towel for swims in the pool or ocean
So, if I left the books and the above items at home, I would be taking my carry on bag. As I get older, I am realizing that sometimes not having to lug a carry on bag through airports is rather appealing.

My only issue with checking a bag is waiting for it at the end of a journey and wondering if it will fall down the chute and appear on the baggage carousel. In case my bag takes a side trip, I have diligently packed my prescriptions and a toothbrush in my purse!
You will see in the photo my checked bag, purse, pile of airplane clothes, neck safe and packing list. I still wear a neck safe that holds my passport, vaccination book, spare credit card and a few prescription pills. I have a rule for myself….my passport is either in my hand or in my neck safe. Our well travelled friends managed to leave a passport on a plane one day and even Murray momentarily lost his passport in an airport, so I have my rule and I stick to it. Plus, if ever, and I hope I never experience this, the airplane has to unload in a crisis, I have my passport and credit card to get me through. I think that is smart.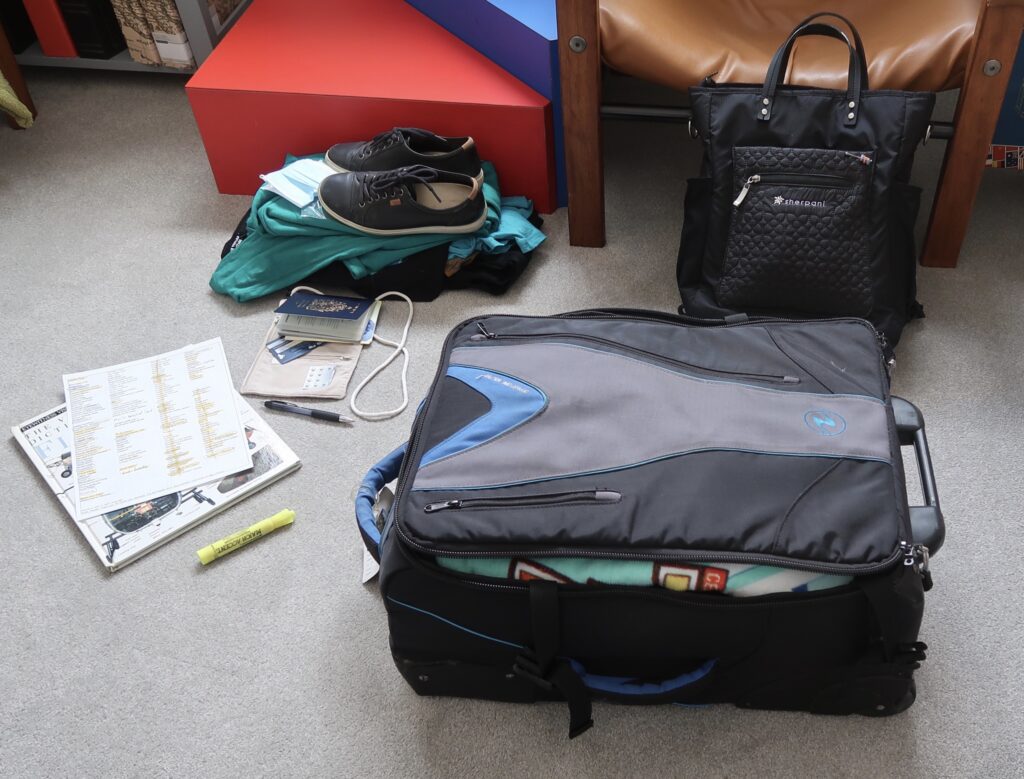 Tonight I will do the final pack of all those items I am still using. Tomorrow it is off to see my granddaughter! See you in Australia!