The winds have been picking up since we arrived and today the wind is from the north blowing at about 40 km/hr. The port authority has closed the port. No boats are moving today, so no diving.
We change our plans, rent a teeny tiny Chevy something, squish in and head south on the only road that circumnavigates the island. The west side of the island has the calmest water (when the wind is NOT howling) but the beaches are rock. There are a few entrepreneurs that have built beach bars with swimming pools, snack bars, imported sandy beaches, water toys and piers. The cost of admission is a minimum drink or food purchase of $10 US., basically, the cost of lunch. The best one we stopped at is Paradise Beach, which is 14.5 kms from downtown, about a $20 taxi fare.
The east side of the island has rough water no matter what the wind is doing but has beautiful sand beaches. Murray and I brave the waves and go for 2 dips along the way.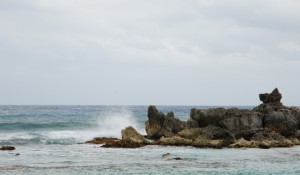 50 kilometers later we are heading back into San Miguel. We take a short tour of the city north of the airport to locate a beach Murray and I went to 10 years ago. R also wants to find the golf course. We locate Playa Azul, which has a sand beach and large restaurant. This beach is an option for a short stay at the beach rather than taking a taxi all the way to Paradise Beach.
To us, Cozumel is all about scuba diving. If diving is not available, a trip around the island is a fun way to spend a day.