An onsen is basically a hot tub. It is part of Japanese life. Unlike hot tub use in most of the world there is a ritual performed each time one uses the onsen. The onsens are separated male and female. There is a locker room or at least a change room to leave your Yukata, a robe similar to Kimono, in. You must be naked, no clothing what so ever is allow in the onsen pool. Then, seated at a counter that has a hand shower, a water spout, a wash pan, and all the cleaning liquids you might need you must cleanse your body. You do this seated on a very short stool. Do not stand. Once clean you can get in the 43C water. Your wash cloth comes with you, is folded and placed on your head. It is very bad form to let it touch the water.
Soaking in the tub is quite zen inducing and all the aches and pains from the days long walk abate. I don't think I will rush out and buy a hot tub but it is nice to pamper ourselves with one of our hosts indulgences.
The fancy hotels we have stayed at offer the wash clothes as a gift. Only thing is they are odd shaped and not very good quality. I appreciate the gift but do not know what to use the towel for once we get it home. Today sitting at our picture window musing on Mt. Fuji I found out what the Japanese use them for. They clean the morning dew off the windows of their Ferraris.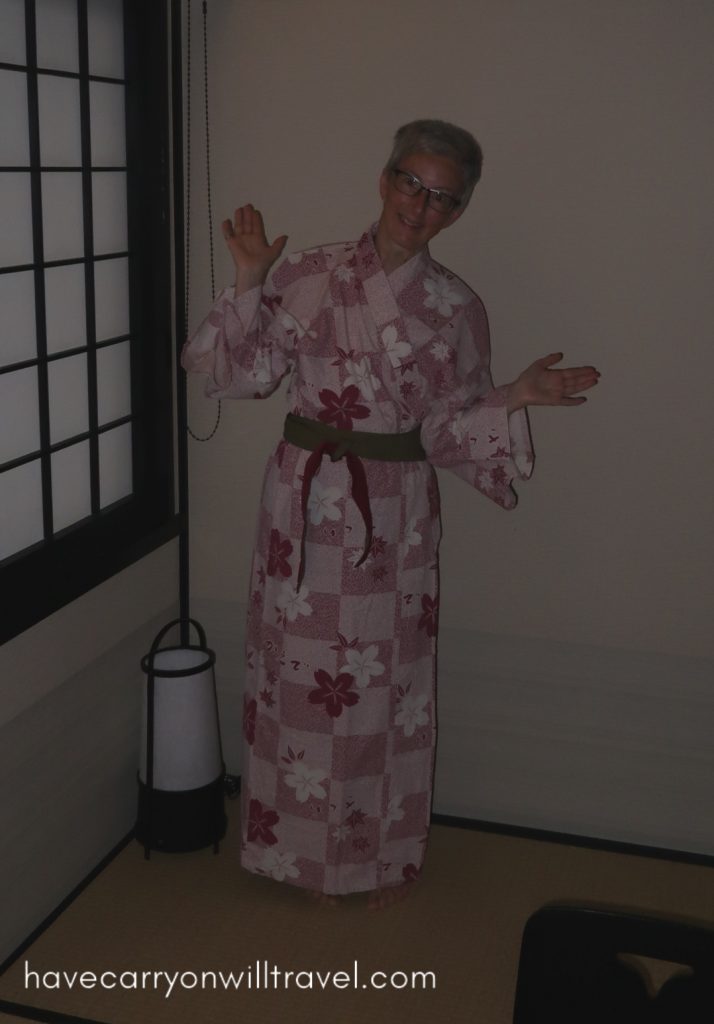 Debbie here with a note about wearing yukatas. The yukata comes down to my ankles. It is wrapped right side first then left side over the right side and tied with a narrow obi, which is wrapped a couple of times around my waist. The right and left wrapped sides go half way around my body making walking with a normal stride impossible. I need to shorten my stride considerably. Add some slippery toed socks and slippery slippers too large for my feet and I do a short stride shuffle down the hallway to the onsen trying not to wipe out and kill myself!
The bus is the way to get around Kawaguchi. We sit on the side of the highway waiting for our chariot to arrive. The roads around here are twisty and turny. We watch as group after group of riders on big motorbikes thunder by. Next an off road vehicle passes with tires the size of those on a monster truck. Then a couple more. Soon there is enough of them passing we think there must have been a congregation somewhere close. A pair of Porsches are the first of about 20 to pass in the span of about 5 minutes. This popular tourist area is a short drive from Tokyo and it looks as though it is the place of choice for groups of like minded drivers to come for a Sunday of pleasure riding.
The area we are in is known as The Five Lakes. There are, of course, 5 lakes. We toured the area a bit and on one of the lakes I noted something a bit out of the ordinary. Several fishermen were making their way back to the shore in the SUP's. It's not what you think. These were stand up paddle boats. Small boats that look like ordinary row boats but the operator stands at the bow of the boat and with a long paddle maneuvers the boat much like a stand up paddle boarder would.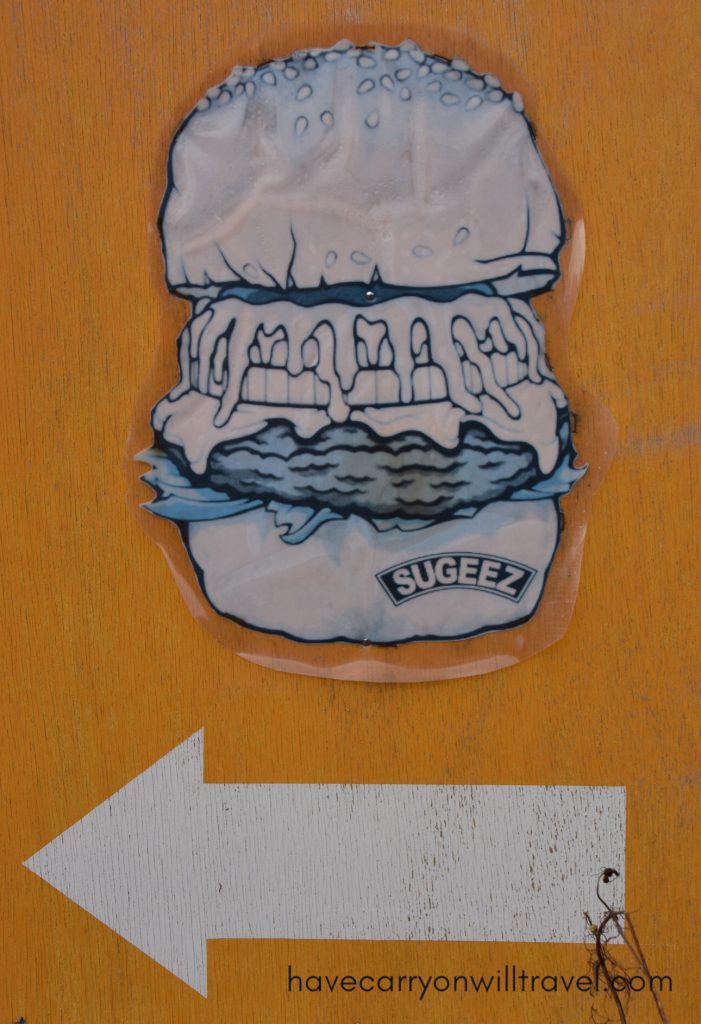 Lunch this afternoon was a burger. R had told us about a burger joint he had spotted from the bus yesterday. So when we found ourselves a short distance from it we thought we would forgo noodles and opt for something our stomachs would find more familiar. When we got to the place and saw its name was Sugeez (My brother has been known as Suggy to his friends since high school.) I think it was fate. It is a popular funky little restaurant on the side a heavily traveled highway in tourist land. The interior is decorated in Bob Marley and Americana brick a brac. The owner had lived in Hollywood for a time. The burger satisfied our burger craving but the texture was not as North Americans would expect. I don't think ground beef is easily obtainable in Japan as the patty was made from chopped up beef and rather chunky.If you need a burger fix while in Mt Fuji, stop by.
Today's highlight was a museum of work by Itchiku Kubota. The show is literally mind blowing. He designed, dyed, and constructed kimonos as art. He built his own museum to display these pieces. The building and gardens are wonderful in themselves but when we enter the main gallery we stop in our tracks. Each one of the kimonos on display is a masterpiece. Check these out; picture gallery, Itchiku Kubota Museum, Itchiku Kutbota info. In 1996 Mr. Kubota had a show at the Smithsonian Museum of Natural History. He is the only person to have a show in that venue while still alive.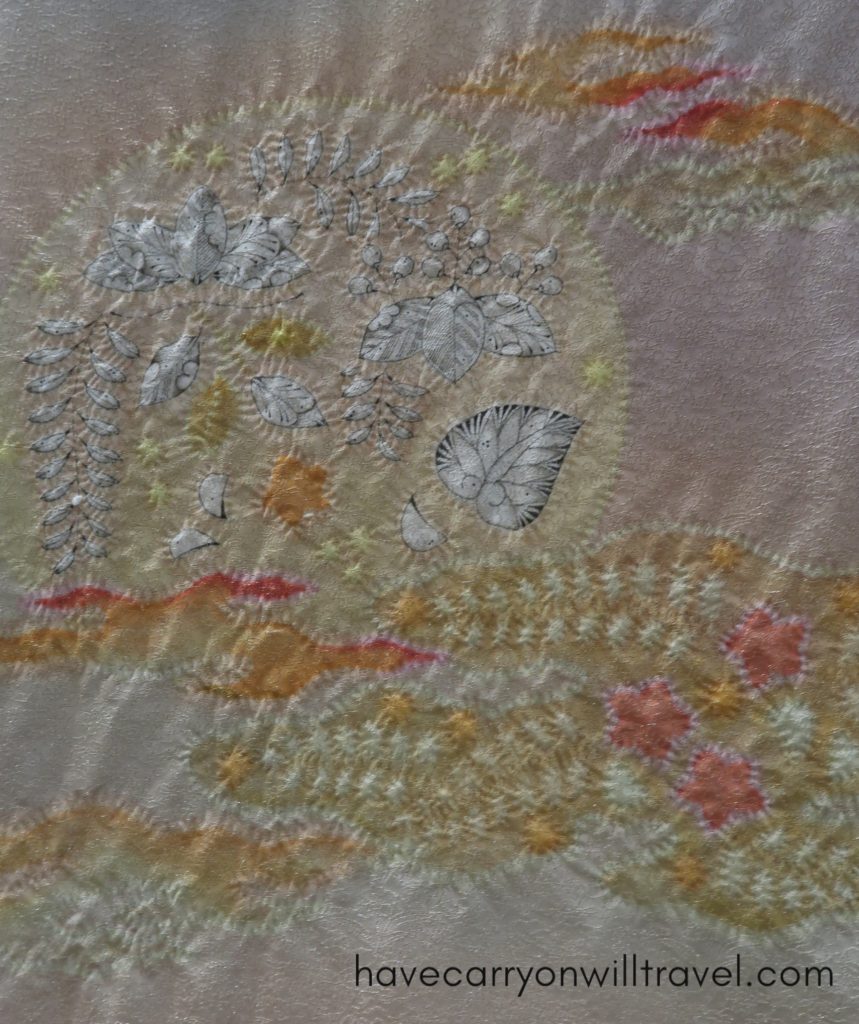 We are leaving Mt Fuji to go to Tokyo and then home. Japan has been wonderful and enlightening. Good bye for now!