I don't know how many days we have strung together, but I do know that we are trying to put out a blog each day and that does not make any sense the way the days and hours meld when you are traveling against the clock.
Our first big glitch. Last year in preparation for visiting China we purchased a skookum electrical plug adapter. It works really well for most things. It has the plugs required for all over the world but it does not have the North American plug that has a ground, commonly known in Canada as the 3 prang prong. Our new netbook has a 3 prang prong.  We brought our netbook along to blog and enable us to post each day and now we are not sure we can even charge the computer.  I know, I know, shoulda checked before we left home.
Frankfurt airport, although large, is alright and easy to navigate. Last night on the way back to the hotel, Debbie and I counted 10 visible planes in the air. It is an amazingly busy airport.
Frankfurt to Kolkata. The plane is full to the nuts, every single seat is taken. English is no longer the dominant language, although it seems to be the "go to" language when folks with different mother tongues converse.
The plane lands. We get on an airport bus, and you know you are in India. I'm guessing the buses are 50 yrs. old. They are not handicap friendly, the stairs are 30cm high for each 15cm tread. But they still work and they provide a person with a job to drive us the 150M we could have easily walked.
Immigration is OK, customs is easy and everybody speaks English (to some degree). The air terminal is also worse for wear. It is 11pm and the crowds are not looking that bad. We're looking for the Airport Manager's Office in search of a 'retiring room' (a bed in the airport for passengers in transit). Folks in the office only speak rudimentary English. We fail in our goal. No room at the inn. There was a dorm bed in the men's dorm but none in the ladies. They still differentiate such things in India.
We have 2 fall back plans. Plan 'B' is we try to stay at the Hotel Airways. According to their web site, the hotel is supposed to be "just across from Gate 2". Trouble was it was late at night, dark, in unknown area of an unknown city and we have no way of determining if there is even a room available.
Plan 'C', sleep in the airport departure lounge and I use the term lounge loosely. We are in the international terminal and in the morning we're leaving from the domestic terminal. Close by but a totally different entity. The other minor detail is that there are armed guards (machine guns) at all of the doors and if we leave the terminal we are in, the guards at the other terminal may not let us in which would mean we would have spend the night outdoors or go back to Plan 'B'.
We live dangerous and decide to spend the night on the departure lounge benches. We gather our wits, walk out of the first terminal and head towards the domestic building. Only one tout accosts us as we leave and we basically ignore him, he goes away. We walk maybe 5 mins. and arrive looking into a completely vacated domestic terminal. We keep walking until we reach the far end of the building and the entrance doors are open, with the gun toting army guys as guards. We sweet talk our way in even though our plane ride is over 12 hours away.
There is quite a gathering on the other side of the night and they all look like they are here for the night. (Like the airports in the western world would let that happen.) The prime sleeping spots are already taken long before we arrived.  There are some folks sleeping on the tile (on concrete) floor. Debbie and I find a relatively quite corner and TRY to get some sleep.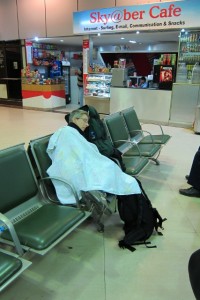 There is lots of hubbub and we manage to doze on and off until 4 or 5.  At 4am the plane action starts up, the hubbub increases.
The place is actually quite secure. You can't even get in without a plane ticket and who would chance stealing something with a machine gun packing army guy at each door. Can't say one can get much sleep though.
The airport itself is old and since a new one is being built maintenance on both airports is being done to a minimum. It does provide the place with a git of character. The new one looks like any one of a dozen glitzy airports elsewhere. It's not very clean. I can't compare it to India in general yet because it is the one and only place we have been to this point. I can say I would not sleep on the floor even if the seating is the standard airport issue, designed to discourage its use as a bed.
We decided to try and take an earlier flight. Jet Air was perfectly willing to do that but they only have one flight to Bagdogra a day and 12:20 is it. The system will not let us into the flight gate until 2 hrs before the flight time so we sit in the waiting area patiently counting down the hours. We did find a bench with 2 broken arm rests and Debbie managed to get a little more sleep – in a horizontal position.
Interesting night spent within the local culture. Go with the flow, don't worry too much about the creature comforts and save a buck or two by not staying at a hotel. I've done all that before but it was because of my hippie background which, for the most part, is somewhat counter culture. Spending the night on the airport floor seems like an acceptable thing to do here.