In September, 2019, we were on the Coralia, a scuba dive liveaboard puttering around Raja Ampat, in Indonesia (check out our posts from then.) Almost as soon as we got back home, we booked ourselves on another Coralia trip for October, 2021, this time through the Banda Sea. Well, guess what happened? This trip is a COVID reschedule trip (one of many).
We are two weeks out from flying across the Pacific to land, first in Australia and then in Indonesia to hop on board the Coralia and venture through the Banda Sea. Our "packing room" looks like this……..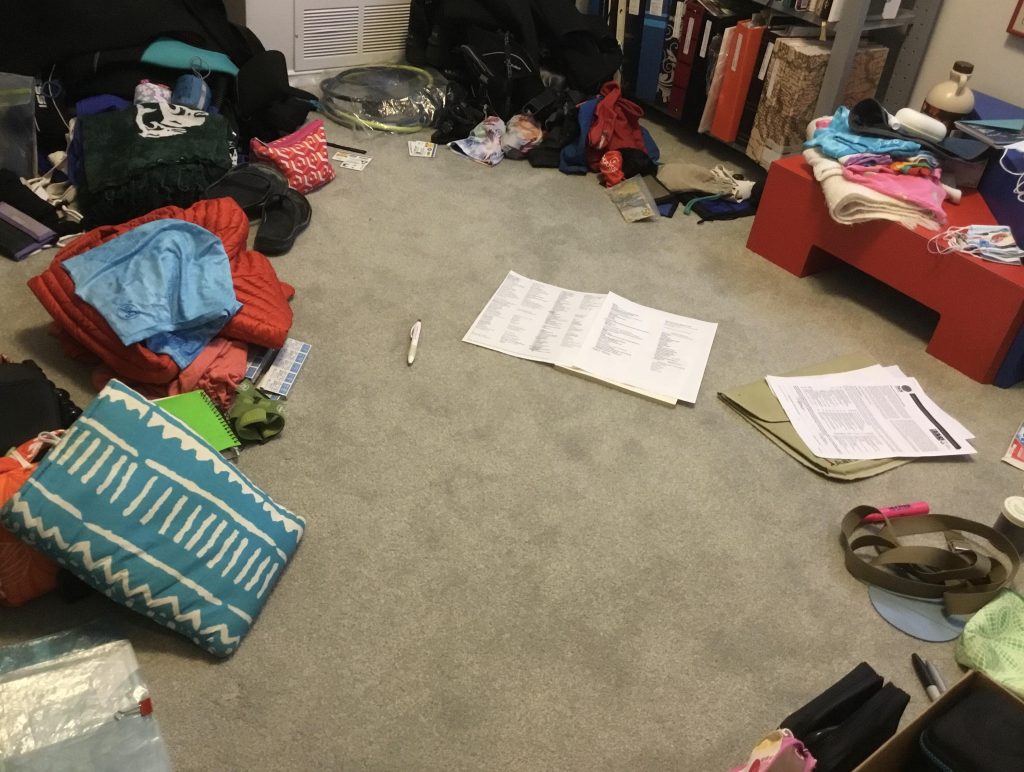 Our packing lists look like this…………
A few weeks ago, I got antsy and started throwing dive gear and other items into our "packing room". This trip is a two segment trip that requires slightly different clothing and gear for each segment. Australia, where we are going to visit my son and daughter-in-law (M&D), requires what I term as "city" clothes and Indonesia requires "beach and hot weather" clothes. The dive gear is obviously for Indonesia.
We are breaking the carry on only rule and taking an extra suitcase for the Australia segment. This way I can be a little extravagant and take a few more city clothes. This suitcase and contents will get left on the Gold Coast while we head to Indonesia and then get picked when we return for a few days more visiting.
Over the course of the last few dive trips, to Kona, Cuba and Bonaire, I have realized that I cannot keep my body warm under water any more with the wetsuit combination I have been using. I have subsequently purchased a new, heavier, thicker, more robust wetsuit and hooded vest. This has caused a packing dilemma as I am not sure I can pack everything I need in my usual carry on dive suitcase to take into Indonesia. What does this mean? Less clothing! Dive gear can't be sacrificed, so it is clothing that gets left behind. I have been thinking about what to take – shorts, a skirt, a sun dress, tops – and have come up with a tentative plan.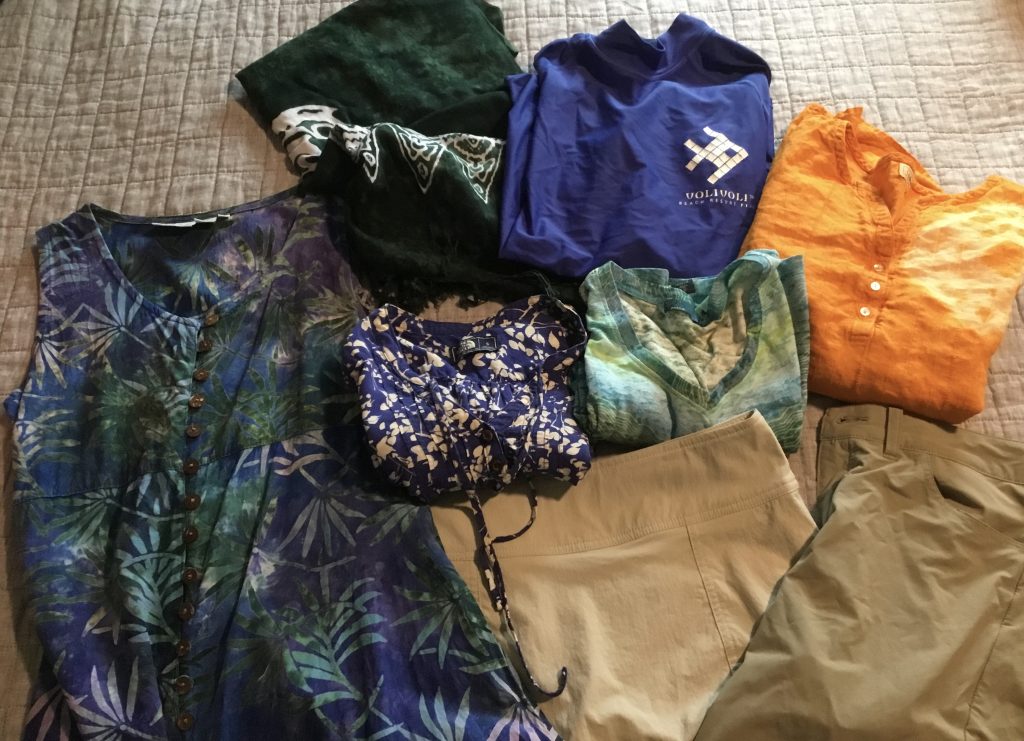 We divide our clothes into daytime clothes and evening clothes. Daytime clothes get dirty and sweaty. Evening clothes get worn for an hour or two and taken off, so get less dirty and sweaty. For this trip, I may wear my skirt and blue shirt more in the evening, but I will have to see once we get there.
For Indonesia, so far I have:
Daytime Clothes
1 pair of shorts
1 skirt (can also be worn in the evening)
3 tops (blue one is also for evening)
1 sarong (to be worn to and from scuba diving on Lembongan)
1 rash guard (also for diving)
sandals
3 pair of undies (worn one at a time, of course!)
Evening Clothes
One thing I dislike is taking clothes to wear for one specific purpose. Clothes for the airplane rides fall into this. I get cold on super air conditioned planes so I need a certain amount of warmth. For the long haul flight to Australia, I am mostly likely wearing technical pants, Icebreaker long sleeved top, my rash guard and a lightweight down sweater. For the flight into Indonesia, I may be brave and wear shorts and all my top layers, then I am not hauling my pants around Bali and Lembongan unworn.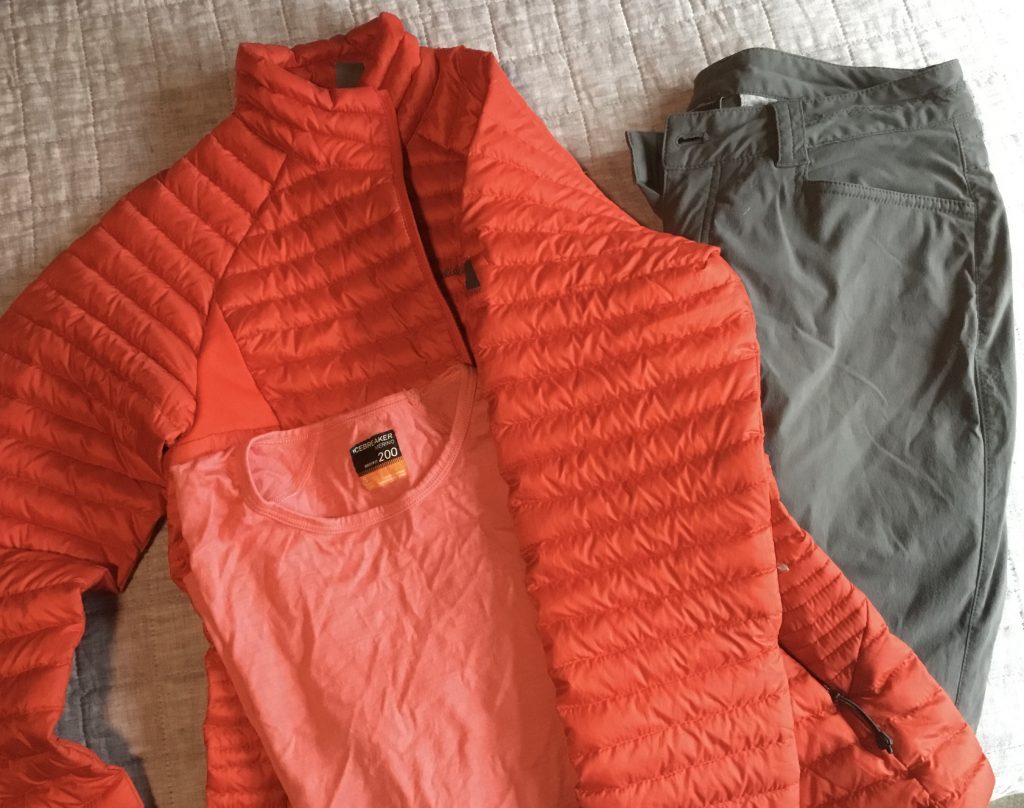 I haven't quite sorted out my Australia attire. Will let you know what I decide. Stay tuned for Murray's clothing too.