Saturday morning sees us driving from Sundre to Rocky Mountain House to watch the start of Stage 3 of the Tour of Alberta. It is sunny with occasional clouds in Sundre but as we travel north, the clouds take over, and they are grey. Doesn't look good for a dry day.
We wander around the team buses in Rocky before the start of the race. The riders are preparing for the day, fixing radios, choosing snacks, donning extra layers against the cold wind and taking a quick spin to make sure their bikes are in perfect running condition.
The riders look pensive as they line up at the start. The stage is 181 km long, which will take about 4 hours. Maybe they are thinking about team tactics, or which snack to eat first, or about that sore muscle, or the cold weather.
The leaders in all the jersey categories plus a few special riders line up right at the start line and the rest of the riders in behind them.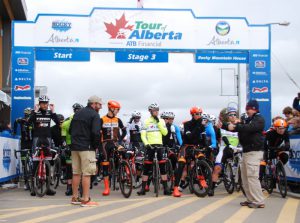 And before too long, they are off riding. In Rocky they do two neutral laps within the town and then ride out east and then north to Drayton Valley. We hop in our vehicle and drive north right away to get ahead of them before they turn north.
We arrive in Drayton Valley with hours to spare, so we decide to go for a very short ride. We ride north into the wind for 13 or so km and then turn around and fly with the wind. By the time we get back, change, stow our bikes, grab a snack and walk to the race area, the riders are getting close. Fortunately, they have not gotten soaked by rain today.
The riders enter Drayton and do three laps of a circuit within town. It is always thrilling to watch them speed by in a pack. I marvel at their athleticism and bike handling prowess. Two riders manage to break away on the second lap and they fight it out to the finish line. Another great day of racing!
We are now home again as Stage 4 is a time trial in Edmonton, using the same bike course as the ITU Triathlon being held early in the day. We will watch both the Triathlon and the Tour, so it will be a day filled with excitement.