It's Saturday morning. Big day today, Murray's 200th dive. To celebrate this milestone, Pumba takes us to Columbia, a more advanced dive with many swim throughs. Deep, curvy, twisty, sloped ones. We pass a turtle in one of them. It is also our dive master's birthday. Pumba is 45 today. Last night we purchased a small blow up Tortuga and presented it to him when we boarded the dive boat. Pumba took Tortuga for the deep dive and the turtle did not seem to mind at all.
It's Saturday afternoon. After a lunch, at Wet Wendy's, of chicken fingers and guacamole with taco chips shared by Murray, B and me, we wander back to our hotel to fill in our dive logs. Then a snooze. We all agree that this is the life to have – breakfast, dive, lunch, snooze, supper, sleep, repeat.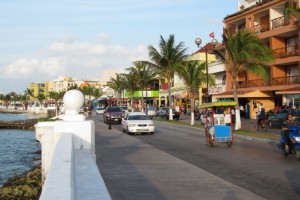 It's Saturday night. The weather is warm, an improvement from earlier this week. Everyone is out. Tourists and locals both. There is live music in Woody's Bar and Restaurant, just off the main plaza. A dance band is setting up in the centre of the plaza getting ready to play. A spray paint artist is creating works of art and selling them to interested watchers. Across the street, on the waterfront, a trick bike exhibition is going on.
It's Saturday in paradise.