Today is city time. Haven't been in a big city since we left Copenhagen 2 1/2 weeks ago. Aarhus is not really that big in population, 315,000 but it is real busy. There are crowds on the streets. The downtown is packed. Not a lot of car traffic really but tons of pedestrians and loads of bikes.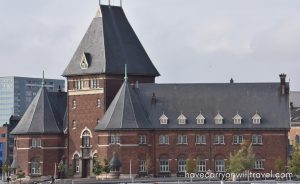 We just wander the streets and look at the sights. We do have a couple of objectives. First is the new bibliotek. A huge new building on the water front, called Dokk1. I'm guessing it is land reclaimed from the port and put to use as a public space. Thus Dock. It is more than a library. There is the Tourist Info Centre there and the city registry occupies part of the main floor. The library is very spacious with at least 1/2 the space set up for electronics. Carrels are all wired, there is electrical access in all the seating areas and there are public use computers everywhere. The entire second floor is a kids' world. Beyond the book and CD/DVD sections there are play rooms, kitchenette, change rooms and quiet spaces. Very impressive.
Next stop is a place called, Aarhus Street Food. It was in the Lonely Planet book with a star beside it so we go there for lunch. An old warehouse type building that has been turned into a food fair. Shipping containers have be converted into food kiosks and we wander about deciding what we should eat. It is not fancy but the food is cheap and the selection is diverse.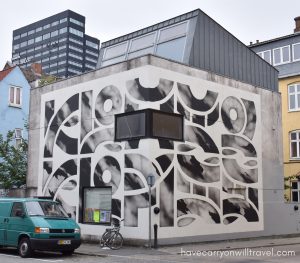 We are on the street again just after 12 and the masses are wandering in search of something to eat. Live music echos from this street corner or that and we are serenaded all the way back to the hotel.
It is not warm here, in fact it is chilly even for us from the northern climes but the folks here seem to be hardy. They are out and about, they are sitting in the outdoor cafes and every corner has an establishment serving beer with outdoor seating. There are make shift venues under tents all serving beer, of course, and live music as entertainment.
It may be because the living quarters here are small and people use the outdoors as an extension to their homes but this place is a lot busier than home with only 1/3 the people. Density may also be a factor. When the travel distance is not far it is easy to utilize the public spaces. Although Edmonton has it moments, it would be amazing to see the citizens utilize the outdoors and create a vibrant living place such as the Europeans do.