Tokyo is not a very photogenic place. We have traveled around town by foot and subway for 3 very long days and I have taken maybe 100 photos. Most of which are just a record of the places we have passed by. The cityscape is quite bland and there are not too many things that are worth lifting the lens for. I did take a few pics today as we passed by the Imperial Palace and gardens. Debbie and I then traversed the absolutely boring financial district on our way home. I didn't even take my camera out of my bag.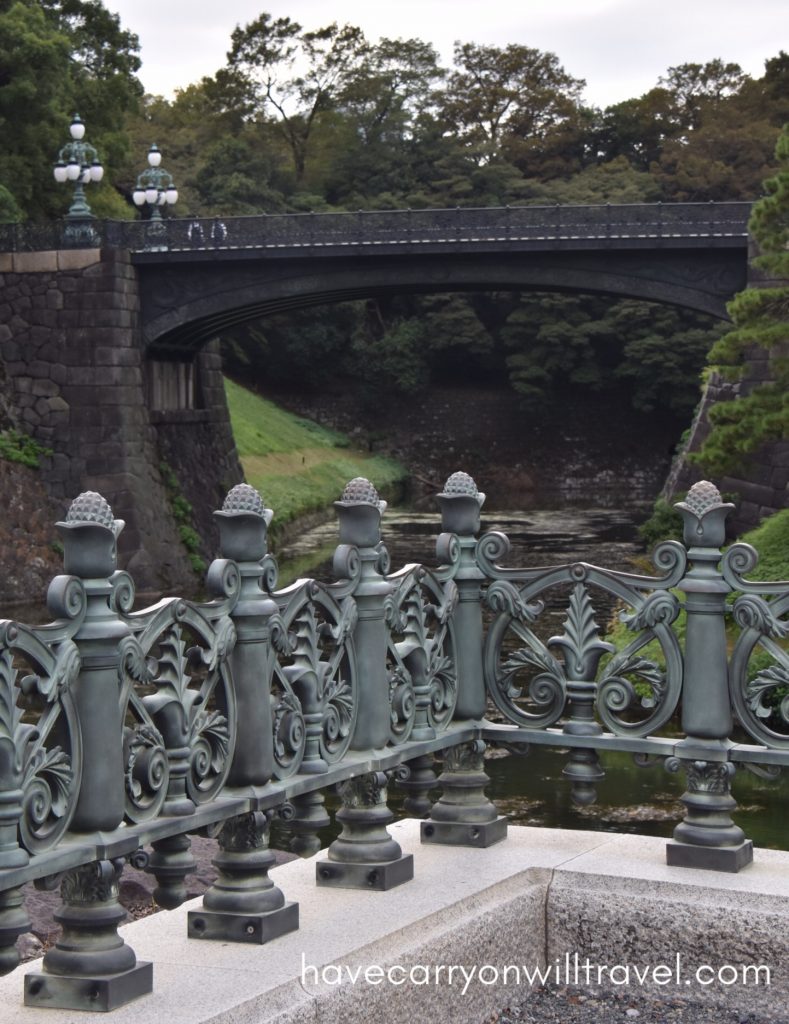 The train/subway system here was set up over time and the concessions were awarded to many different companies. They generally work together and the transit passes work on all lines but it is a very clumsy way to operate things. The connections even at the 'same' station are long and circuitous. The route from one point to another is often piecemeal. It is often a long walk from where one stands to the train route that will get you to where you are going.
Street furniture is rare here. I'm guessing it is to discourage loitering. There are plenty of benches in parks but there is not an over abundance of them either. In fact there seems to be a lack of chairs with backs in general. Our hotel room has sit on the floor cushions with chair backs but no legs. The breakfast room has stools with no backs. Most of the eating establishment we have been in have stools. The subway does have proper seating. For back support we have been using the hotel room walls.
We were warned Japan is a cash society. When our on site connection mentioned this I upped the amount of cash we ordered from our bank at home. Still I expected Tokyo to be credit card enabled. SURPRISE! Most food establishments in the big city are cash only. The biggest shock is some of the 'tourist attractions' do not accept credit cards. Debbie and I have taken to touring the city we are in by way of the river. The river boat in Tokyo which is basically supported by tourists will only accept cash. The transit cards can be topped up at machines but the machines have no way to insert a card and must be fed bills. On the upside to this Japan is not as expensive as we had been led to believe and if we are careful we will have enough liquid funds to survive our trip.
A bit of a disclaimer. The comments do seem negative but that is not how I meant it to be. My intention was rather to give my impressions. Neither good nor bad, just that is the way things are.
Tonight we sit with the knowledge a category 5 typhoon is about to make landfall near Tokyo. Some people seem to be somewhat panicky with the news. We have decided to remain calm and stick to our plan. We have no control over many aspects of the near future and if our plans get interrupted we will adjust as necessary. In the mean time we wait.