The West Coast Trail has been labelled by many to be one of the best, if not the BEST hike in the world. I do not have nearly enough expertise to pronounce such a statement, but it is quite an experience. Upon completion of this adventure both Debbie and I were taken by a feeling of great satisfaction and a tremendous sense of accomplishment.
The trail is hard, real hard, but I do not want to dissuade anyone wanting to walk it from doing so. Just do not approach it with complacency. Understand that what you want to undertake may be more than you have bargained for. So come prepared, read what you can, train by hiking before you get here, have the proper gear, weather and accidents happen, it is good to have what is required to cope and above all come with a positive attitude, rested and ready to take on an arduous task.
The trail is about many things. It is about goals and what it takes to accomplish them, preparation, tenacity, and pain, mental and physical. It is about people, all those we meet in transit. Everyone has a different reason for mounting this expedition and it is truly a pleasure to sit and chat with as many people as we can and learn of their personal WCT experience.
It is about expanding ones boundaries, learning new skills, getting outside of our comfort zone and surviving each day. It is about the trail and how every kilometre is different and how much concentration it takes to navigate each step safely. It's about the coastline and how rugged it is and why the trail exists, being constructed to assist ship wreck victims to find their way back to civilization. It is an aural experience. Without most of the sounds of the our 21st century life we are able to enjoy the birds, the rhythmic sound of waves washing up on the shore and the sound of the rocks rattling against one another as the water draws them back seaward. It is about the campgrounds, situated in the most serene locations with a million dollar view at our doorstep each evening.
We are lucky, the weather is perfect, the trail is not too crowded, and Debbie and I finish with only minor aches and pains. Would we do it again? As I said, I do not think so but for what it is worth we are both glad we did it and I think it has had a part in shaping who we will be in the future.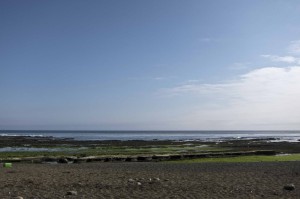 Debbie's notes:
I agree with everything Murray has written. It is hard, very hard, but is it a wonderful journey. A journey of amazing sights and sounds and a journey of discovering just what I can do – bouldering, walking tree bridges, balancing over rocks, hiking 17 km in one day. Even though I am in pretty good shape for a mid 50 year old, I have always been abit of a chicken. No more!
For you folks out there thinking of tackling the West Coast Trail I have a few suggestions. If you know months and months in advance that you are going, get in the gym and do some weights. Squats, step ups, lunges, core work, balance stuff and don't forget the upper body. I am so thankful that I had been working with a trainer for the past couple of years and my legs handled everything that got thrown at me.
Practice hike, working up to your full backpack weight. This prepares your feet, legs, shoulders and mind for the kilometers ahead. Try to find some hilly and more rugged terrain. Go on a couple of backpack trips to fine tune your gear.
If you are thinking of hiking the West Coast Trail, do not delay, just get out there are do it. You will be glad you did.