It's quiet here. The ride is noisy but as soon as the chopper leaves the silence becomes one of the first things I notice. The wind blows but even that is not noisy. We make noise, it is hard to be quiet but it is only our voices and a bit of bumping and banging and it is easily absorbed into the valley.
There are 5 in the Amiskwi Backcountry Lodge, near Golden, BC and two others in the adjacent cabin. I'm quite sure we are the only ones in the entire valley.
We settle in, skin up and are off to see how the skiing is. There is tons of snow; 45 cm in the last couple of days and the last group in was 10 days ago. The terrain is trackless but our hosts tell us that last evening was quite warm and it had an adverse effect on the snow. The prevailing winds are from the south west and the sun this time of year affects the south and west facing exposure the most so by a simple process of elimination our best bet is going to be the north and east exposure.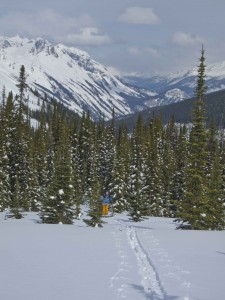 The uptrack is fast, it maybe takes 30 minutes. The run down is good. The snow is not deep but it is generally consistent and very good skiing. It is our first view of the available terrain and I do not think we will run out of ski options in the week we are here. I am still hoping it snows.
Standing high on a ridge the two 'locals' point out the highlights and give us an idea where the snow might be good. I think we will follow up on some of their suggestions. There is one full day tour that sounds good, where most of the skiing is on slopes with a north aspect so the snow should be good, but it is a 6.5 hour trek. I think that will be a later in the week thing.
A good start to my week of backcountry skiing.