Must be getting use to it, neither of us hear the 5am call to prayer today. It's OK because today we leave and the taxi is due to arrive at 10am. Seif the driver arrives right on time and we say good bye to Rebecca and Dustin at the hotel, drive through the gates and we are on the road.
We are on the highway and the driver asks me if I have 1,000 TSH, he has to give it to a friend. I gave him the bill, worth about 66 cents. Within a kilometer a cop flags down our taxi, he looks at the license in the window and approaches the drivers side window. He asks to see Seif's drivers permit, as Seif hands if over they shake hands and the 1,000 shilling bills disappears. Magic. I think not.
We drive a little farther and an oncoming taxi flashes its headlights. Seif says there is another policeman ahead. Sure enough we get pulled over again.  This time I did not see cash exchange hands as I think Seif explained that he had already been hit up and he had no more money. On our way to Matemwe this happened and I was suspicious but this time it was quite obvious what took place. I know I cannot agree with the events but I have idea what can be done. Except maybe to pay the police more, it would probably not help because the behavior has already been established. In the long run it costs all us 'rich' tourists money because these kick backs have to be paid for some how, they are included in the cab fee.
Stonetown is hustle and bustle compared to Matemwe. Loads of people and loads of tourists. Our driver knows about where the hotel, The Jafferji House and Spa, is but not exactly. He stops a couple of times and asks and he finds that cars cannot go to the hotel. We jump out of the cab close to the street that the hotel is on, avoid the 'helpers' that are standing about and walk about 100M to the front door of the hotel . Our reservation is all set up and the asst. manager of the hotel, Mr. Robert, informs us that because the hotel is not full they have upgraded our room to the "Jafferji Sultan Suite". I thank him very much and we are shown to our room. 2 1/2 floors up we squeeze through a 1/2 wide door and the fellow says this is your room.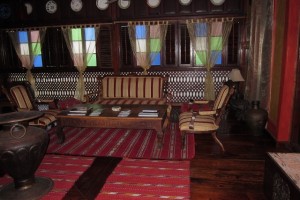 First he shows us the outdoor sitting area, large enough to entertain 10 or 12 guests. Then he shows us the outdoor TWIN (you know; save water, shower with your steady stuff) shower with a view of the ocean over the adjacent roof tops. He takes us back to view the bedroom and en suite.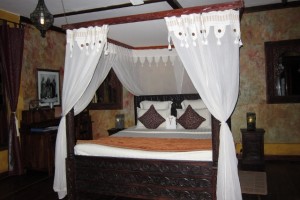 The bedroom is a dance hall with a king size bed, the adjacent washroom has an indoor single shower, a tub, dual sinks and a toilet. I had emailed Donna, the hotel manager a couple of times and don't know what I said but I must have been polite enough because this room is pure luxury.
It is pouring rain when we get to the room but we need to map out a strategy for the afternoon romp around Stonetown. As we finish, the rain stops. We walk out on to damp streets in search of the Radha restaurant. Found it with very little trouble, followed the map from the Lonely Planet. Indian vegetarian food for lunch. Ordered fried dal with rice and roti. Very good and cheap. We thought Stonetown would be more expensive than the hinterland but not so.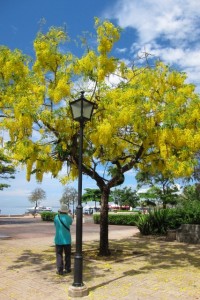 Wandering around town is something I enjoy and Debbie usually follows. Today we are on a mission looking for Mr. Mitu's tours to see if we can hook up with a tour of a spice farm. Spices took over from the slave trade as Zanzibar's main source of income so we thought we should take a look. Left turn here and right turn there and Mr. Mitu's shop is right in front of us.  Half the cost of the tour from the hotel and lunch is included. We book in and tomorrow morn we are off to see how pepper begins it journey to our table.
At about 7pm we are getting hungry and it is time to look for something to eat. We have a couple of places on our list so we head to where they are to look at the menus. The Archipelago it is, recommended by Rebecca at the Panga Chumvi, we found it to be a good choice. While researching Stonetown I found there are a couple of permanent music gigs in town so we set out to find one that is suppose to be on Friday nights. It took some looking but we did find the place and all was quiet. A nice man in front said the music would not start again until Tuesday so tomorrow we will check out some of the other places.
Every second building in this town is a mosque. At prayer times there is a pedestrian traffic jam in front of each. With such a large Muslim population I expect that the 5am call to prayer will again become our alarm clock.