Singapore's MRT is going to save Debbie's feet so we start the day with a bit of a circuitous walk to the subway station. I don't understand why 98% of the cities we go to have a better way to run a subway system than Edmonton, but they do. My h0me town should have the very best LRT in the world as it is one of the newest and the designers should have learned from the ones that existed previously but as far as I can see nothings was learned. Our subway runs on the surface, eats up valuable land, and interrupts traffic at every opportunity. Singapore's MRT is mostly underground. There is not one place where the flow of traffic is stopped to let a train trough. It gets us to where we want to go quickly and the real estate above is utilized for whatever use best suits the surrounding area.
Before we arrive at the station Debbie spots an Art Deco-ish building. It is a highrise picture right out of Ayn Rand's book The Fountainhead. It is quite a monumental building and presuming it was built in the 1920's it has been maintained perfectly. We detour a couple of blocks to tour the office building.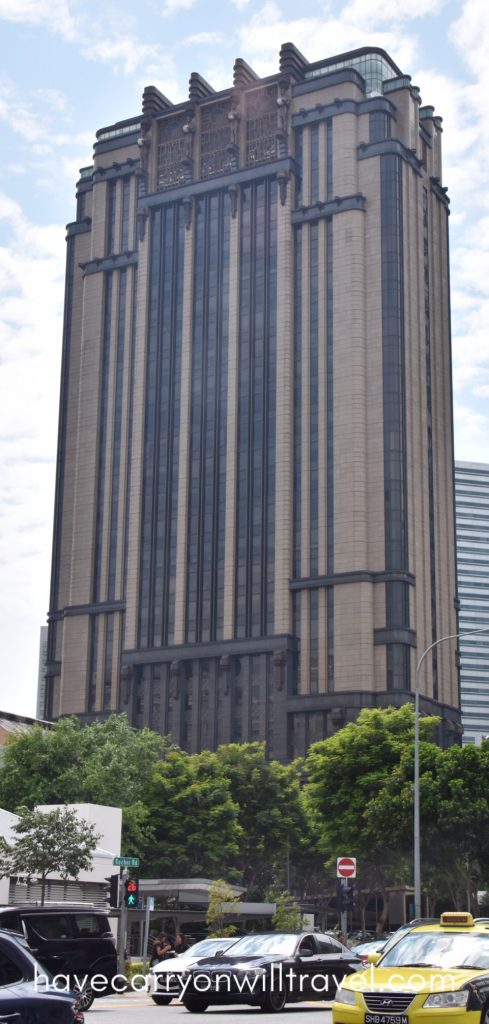 We are both stunned by the detailing. Graphics and elements directly lifted from Frank Lloyd Wright, art deco details and patterns that should be in every architectural book ever printed, and sculpture and friezes that could have been designed by Howard Roark, Ayn Rand's protagonist. I was baffled as to why I had not run across this building before. As I walked passed the front desk I ask the young lady, when the building was built and who was the architect. The first question was answered immediately, 2002. My face must have looked very puzzled. The second question was researched on Google and she told me it was an American fellow, James Adams. Although I think almost every detail was lifted from somewhere, there was one mountain of research compiled to pull off such a prefect replica of days gone by.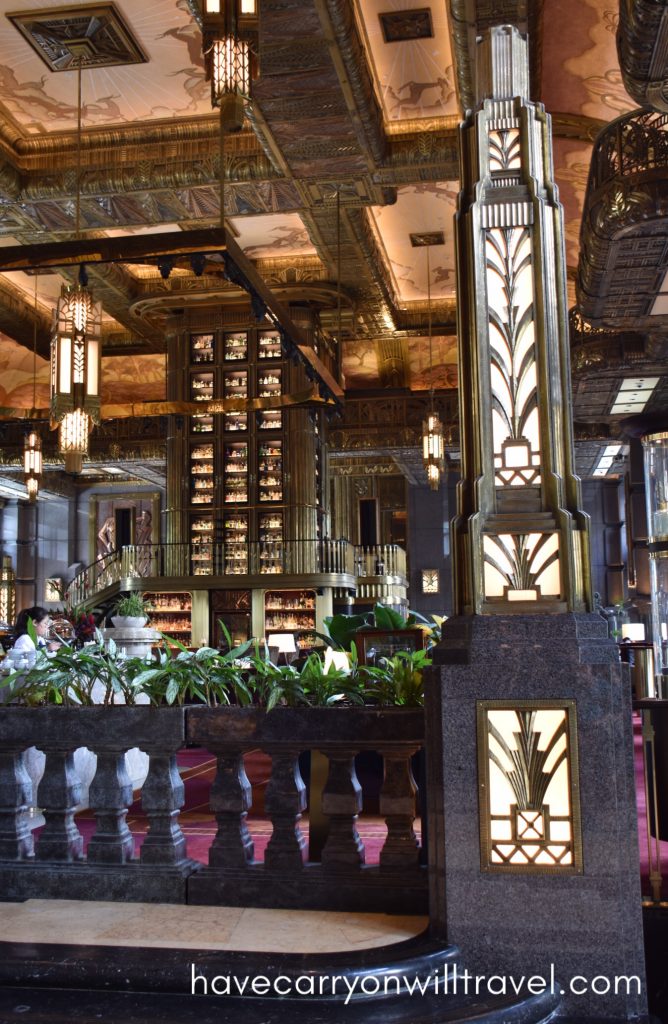 Our tram ride took us to Tiong Bahru. Singapore's first public housing estate built in 1936. It was built in the fashionable, at the time, Art Deco style. It is the part of Chinatown that see very few tourists. We both like that era and completely enjoyed a walk up and down the streets.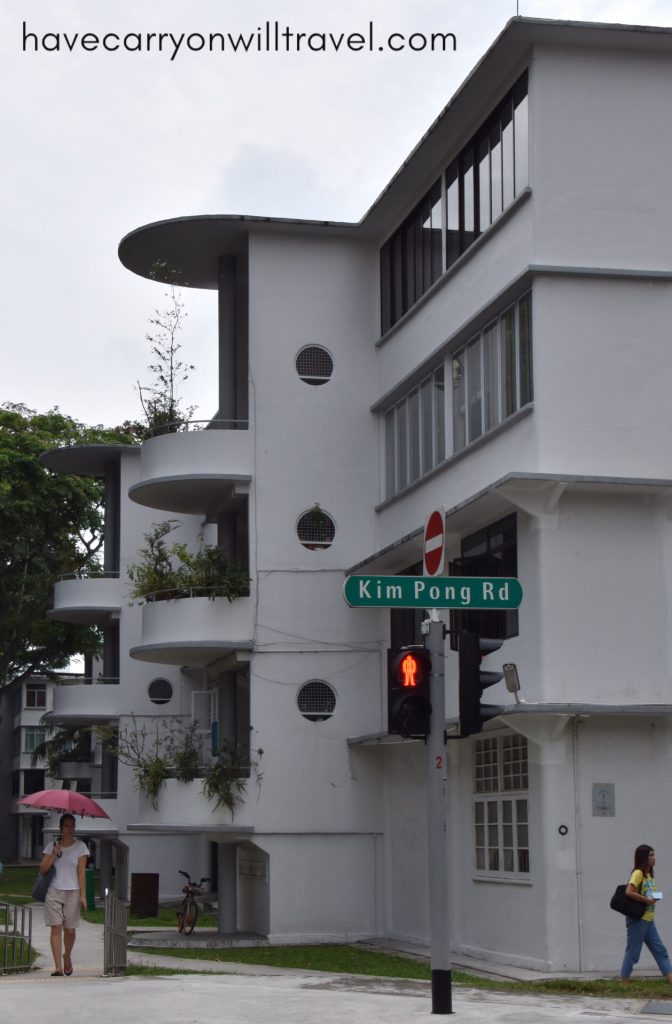 Most of the building are residential and we just skirted the perimeter of those but part of the estate was some strictly commercial building and some mixed use buildings with commercial on the ground floor and residential above. After 80 years the area has been maintained to a high standard and is still a lively and vibrant community.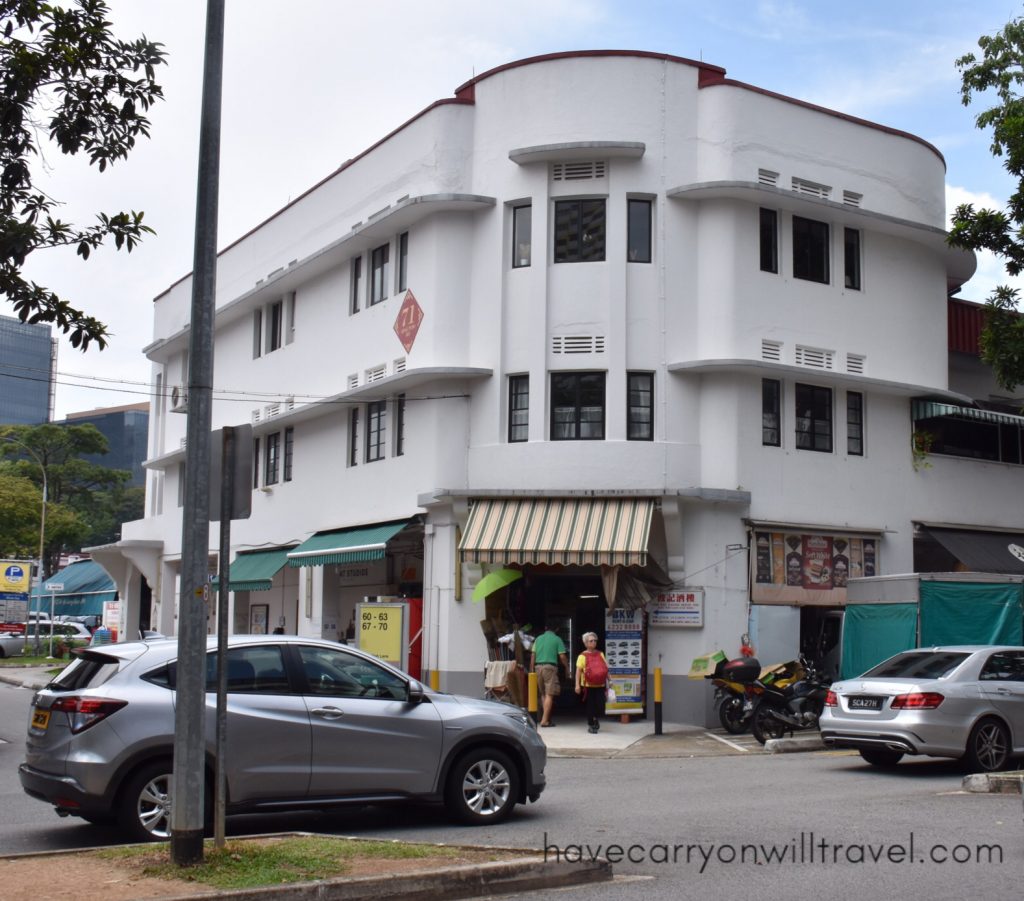 The next stop was a repeat of one we made two weeks ago when we passed through on our way to Indonesia. Hawker Chan has been made famous by the Michelin people by bestowing upon his hawker stall one star. It was the first stall in the world to garner a Michelin Star of any kind. Be warned, the line up can be an hour long but thankfully we wait around 1/2 that. We passed the opportunity but last time but Debbie felt we should go back and test his wares. I got to the front of the line, ordered the specialty of the house, Soya Sauce Chicken and Rice, paid and sat down to what we expected to be a first class meal. May be our expectations were too high but frankly it was not only not spectacular it was just better than edible. If that is the case of other Michelin Starred restaurants I am not interested in following the trail.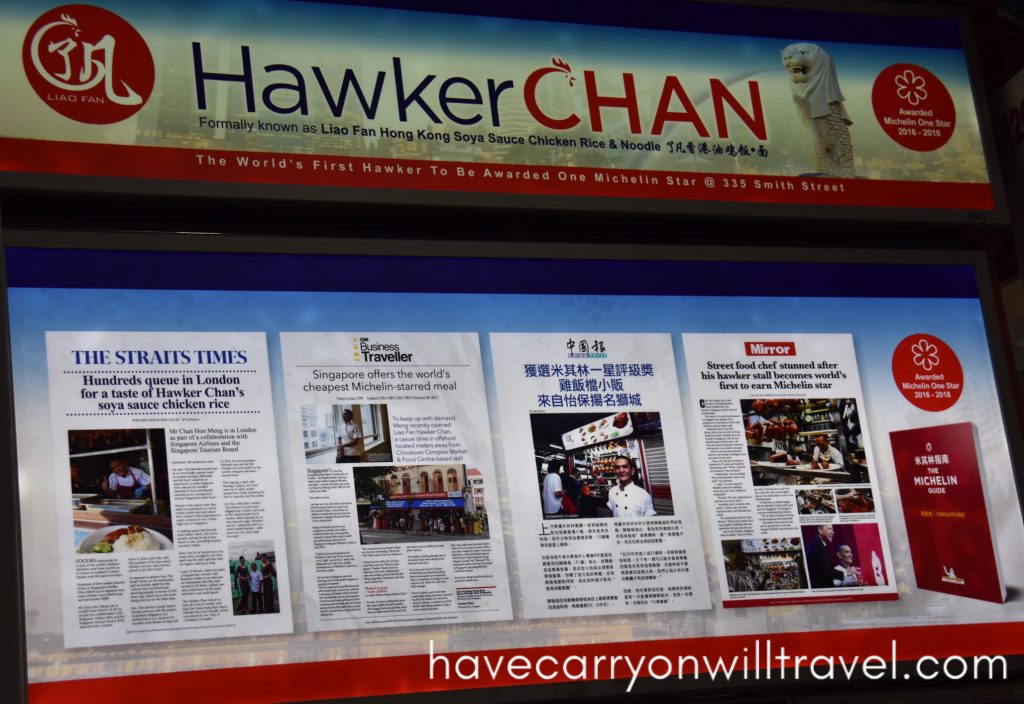 The last venture of the day was to a former military barricks, the Gillman Barricks. It is an example of reuse that seems to work reasonably well but the use chosen has a limited public appeal so I don't think it is a booming commercial success and I hope it can be sustained. When the armed forces no longer had any use for the space it went through a number of iterations before the government, in 2012, converted the area into a centre for the arts. It now houses several commercial art galleries, a few bars and restaurants and the NTU Centre for Contemporary Art. As with all art some of the things grabbed us and some did not appeal at all but for us it was worth the time.
The feet are tired now and with our MRT pass we choose to take the public transport most of the way home. See what tomorrow brings.