It takes 6 car driving segments with 2 cars to get things set up this morning. Two cars travel to Tolman bridge with 4 people. Drop the kayaks there and leave M and Debbie to set up and make sure the boats don't 'float' away. G and I drive both cars to the Morrin bridge, leave one car there and return to start paddling. Once we land at Morrin G and I will drive back to Tolman and pick up the car left there. We both drive back to Morrin to pick up M and Debbie and the 4 kayaks and then return to the campground. We checked out the logic of using 3 cars, as Debbie has her car from driving from Vernon, but it would still take 6 segmented trips. It is sort of like doing a grade school algebra problem. There was a reason we learned that in school. Although we used a graphic method rather than some long forgotten algebraic formula.
We put in at Tolman bridge as planned. The wind today behaves. When we start we have a tail wind. The grade of the river is steeper on this sections and with the wind we travel very fast. (at least relatively) The day is hotter than yesterday and there are a couple of occasions when the wind blows in our face but it is very light and more of welcome cool breeze rather than a challenge.
The wildlife is sparse. We pass the occasional cow or small group of them moaning and bellowing as we paddle by. The group spotted a couple of pelican's searching for lunch. The big event of the day was a bald eagle and it's overly large off spring. The eagle was flying back and forth across the river trying to attract our attention away from what appeared to be a flightless young one. The dark colored, no white head, juvi was lolly gagging on the beach.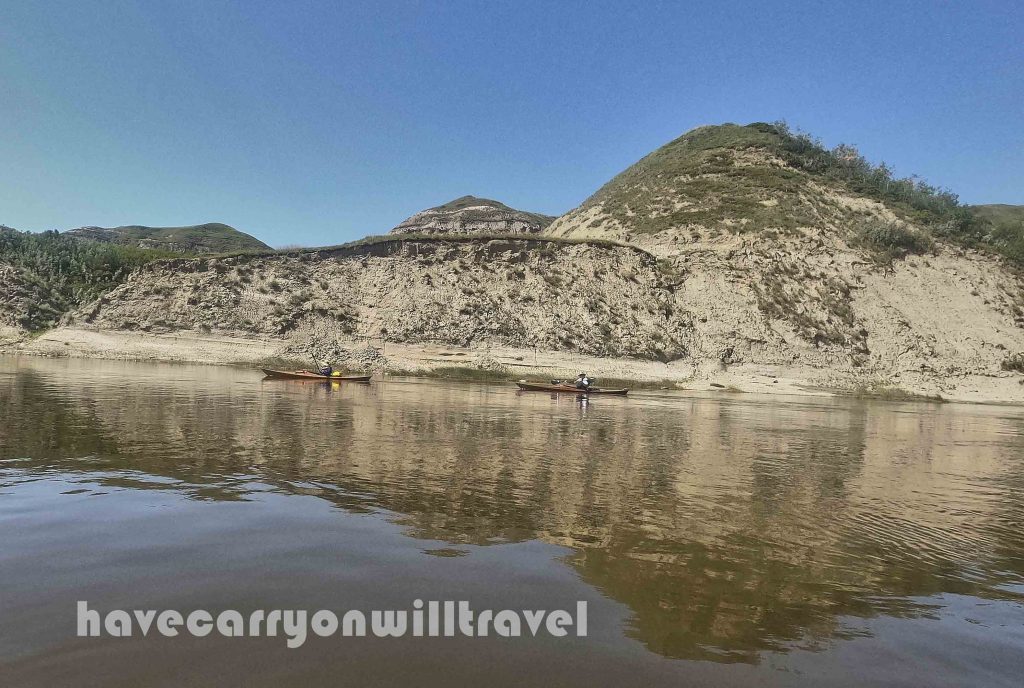 Today was definitely the day of scenery. The base of the banks started right in the river and rose at a steep angle to a height of a 100M or so. The lack of a flood plain made the vision much more dramatic, more of a canyon feel.
The river moved quickly. Sitting in the kayak, it doesn't really feel like we are moving that fast, but as we pass stationary things on the shore we get a real good idea of our relative speed and I think a strong runner would have a hard time keeping up. There was a homestead ruin on one of the banks and I turned and tried to paddle upstream to get a second look. I was motionless, much like swimming in an infinity pool. It would have taken a lot more effort than I was willing to put in to have a second glance.
We travel 24KM, it is a good day, a long day, and we are all bagged.