The American Automobile Association map we picked up before we left on our trip to Arizona had small green dots aligning some of the highways that were more or less in our line of travel. Upon inspection of the map's legend, the dots demarcate scenic drives. Further investigation revealed there are no stretches of any interstate highway that are considered a scenic drive. The more famous of these routes are mentioned in the Lonely Planet travel guide for the area.
We end up following several of these scenic drives. Even when the road is not the shortest or fastest route we alter our original plan for a more relaxed and interesting drive. The movie that plays out is worth the extra distance and time.
The first stretch of highway mirrored by green dots is Highway 89 from Wickenburg to Flagstaff and beyond to Valle on Hwy. 180. Because we want to see Arcosanti we do not follow the first part of the route but we are able to join it at Cottonwood and follow it the rest of the way. We note we are directed through smaller centers not around them as an interstate might. The speed limit is slower but we're not in a hurry to get anywhere. We still have to make time to smell the metaphorical roses and we do. If something needs examining or a photo op presents itself we stop.
The next section of road worth mentioning, Highway 64, parallels the rim of the Grand Canyon and continues east to Cameron, Arizona. A great stretch of highway that takes us from the pine filled highlands at the edge of the canyon out onto scrub filled desert. Just enough change in altitude for the vegetation to change dramatically.
The next morning finds us on the third stretch of road of interest. Highway 163 traverses the Monument Valley, starting in Kayenta, Arizona and winds its way to Bluff, Utah. Again, the route directs us through the center of some of the small towns enroute while passing by the desert landscape which is completely foreign to our eyes.
In Colorado even though scenery is outstanding we actually pass a side trip on the million dollar highway which links Durango to Silverton. The time required to do this out and back drive would have made the rest of the trip a rush.
However the day we drove through Durango on our way to Taos, we followed Hwy. 64 in New Mexico from Tierra Amarilla to Tres Piedras. There are no villages or towns but the road traverses a very high pass and the rolling terrain is very much reminiscent of the foothills of the Rockies. Debbie is driving so all I have to gawk out the window and I'm mesmerized by what I see.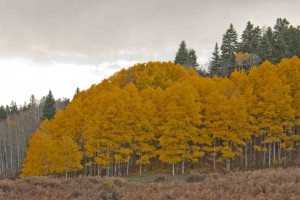 Between Taos and Santa Fe is another noted drive. Highways 518, 76, and 503 are older highways called the Taos High Road. I think they are the old road to Taos which is now by-passed by a more sterile and faster Hwy. 64. October is not full on winter in New Mexico so the road is very drivable and again we are diverted through places displaying everyday life in that corner of the world.
On leaving Santa Fe we opt to use Highway 14 to get us to Albuquerque rather than Interstate 25. This is a day to make time but we have had so much success on the smaller roads up to now we think we would be rewarded. It is of course much less stressful and gives us time to see a bit more of New Mexico.
We now have a chance to follow the historic Route 66. Renamed Interstate 40. As I said this is a day to make time and an interstate is a good way to do that, with speed limits of 75 mph and no towns to interrupt the rhythm we travel from Albuquerque, New Mexico to Holbrook, Arizona quickly. Being curious sorts and in need of the occasional Coke we choose to take a few side roads rather than stopping at the highway gas stations on the edge of the road. In so doing we do see a bit of the local life but only from the seat of the auto. And NO Coke!
We find one more highway of green dots to take us into Phoenix. It starts south of Holbrook in Payson and ends in Mesa. Even though Highway 87 is divided, it is not busy and it provides us with a nice view of the country side.
Many years ago, I found myself driving an Autobaun in Germany and screamed at my travel companions to get us off the damn road because all we were looking at was concrete walls and an asphalt road surface. Since then, I have steered clear of super highways when I can. I travel to see what other places are like and the backroads of the world present much more of what the world has to offer.