R, J, B, and S graduated today. A big moment. The apprehension is still there, but they do feel that they can dive with us. They do not understand that we can dive together and each of us can enjoy the dive in our own little world and as long as each of us pays attention to our gauges and communicates, we will all do fine. It is still a foreign environment and we have to be careful, but we should be OK.
Debbie and I headed out on the boat this morn and again went to a dive not accessible from the shore. It was a good dive and our dive time was over and hour. I thought that was pretty good. The other 8 divers boarded the boat after us and one of the ladies bottom time was 1 hour 20 minutes. To me that is amazing. I was talking to her husband later and he told me that the pivotal moment in going to a 1 hour 20 min. dive was the quintuple by-pass that he had 4 years ago. I thought that was a radical procedure just to extend his dive time, but he explained that the dive time was a nice side effect; he had to have the surgery for survival.
Next dive Windsock. Located at the end of the airport runway. Where do they come up with these names anyway? Good dive. First turtle of the trip, loads of fish, and some interesting coral. The turtle was just hanging on the coral crunching away having lunch and even hung long enough to get his picture taken.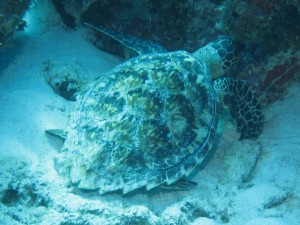 We came back to the hotel to 4 new certified divers. They all had their open water cards and proudly displayed them when we arrived. They had resolved not to join us on the late afternoon dive as we had talked. Debbie opened up negotiations and was not to be denied. They were going to come with us and that was all there was to it.
To Margate Bay we go. It took a bit to find it, we just missed the yellow rock, but we got there and suited up. It was obvious that the rookies had been going through the paces, even though J, A, Debbie and I had set up our gear several times this week the four newbies were standing there ready to go waiting for us four. I went over a loose dive plan and gave everybody some lea way as to max. depth and when and how high above the reef they wanted to be. We all floated out to the drop off and descended. Rounded everyone up and headed down and then south. The group assumed a loose formation and "ascubaing" we went.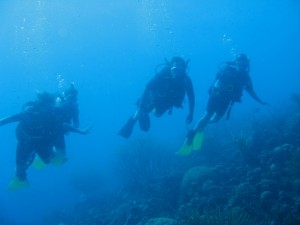 We toured the reef then headed back north to our entry landmark and hovered there for a short while then headed back to the shore. Everyone did really well and really enjoyed their first dive that was not under the scrutiny of the scuba teacher. At this point their learning curve is quite steep and every time out their skills will improve a vast amount. Now they just have to keep it up.
Bonaire seems to be a place of celebration. Sunday it is B's birthday, yesterday my birthday, today is graduation day. We headed to the Argentinian Steak House for the celebratory dinner. Could have guessed by the name that it was slightly outside our budget but it is a celebration and it needs to be someplace special. The meal was great so we cannot complain and we'll try to compensate over the next few days.
Did run into a few more nice folks, the waitress at the Julian Restaurant on the waterfront is a super nice person and the food is good. We have been there twice and will go back for lunch again. The people at the steak house were also great very polite, super accommodating and very professional. Not the same as the stereotypical North American waiter, this lady served us, then left us alone to eat and talk and did not barrage us with a list of stupid prescripted questions. The percentage of great Bonaire folks is still very high. It is looking more and more like a place to come back to.
I know it's Italian but Ciao anyways.