Debbie is always apprehensive about night diving. She finds the darkness spooky. Jump into the water with no natural light and one of your senses disappears. The thing is you have a light. The light helps a bit but it still only hi-lights the area of the reef within the beam. What it does do is focus your attention on the hi-lit area.
We don't do a lot of night dives but when we head to the Solomon Islands in a couple of weeks we will do a couple of night dives on the live a board. Part of the dive package here included a night dive so we take the opportunity to get used to the black water.
A giant stride into the water from the jetty. About a 5′ drop and splash. It takes a few more seconds to get relaxed than on a normal dive but we are soon below the surface with our lights on and swimming towards the reef. The house reef was devastated a few years ago when Cyclone Winston passed through so the substrate is mostly rock rubble. Not a very pretty backdrop.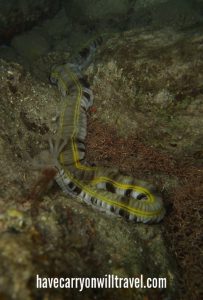 We are not but a few meters into the dive and there is a rather strange creature lying on the bottom squiggling about. G is the dive master and he moves slow and does a thorough search of each patch of rock he passes by. There are 4 of us out this evening and we all scour the area looking for unusual things, things we do not see in the day, they only  come out at night.
A couple of nudibranchs, a couple of sleeping parrotfish, a swimming eel, and a crustacean or two. We only travel 50m or so then turn around and head back to the dock. It is a very peaceful dive, moving very slow, no current and no big group to bump into.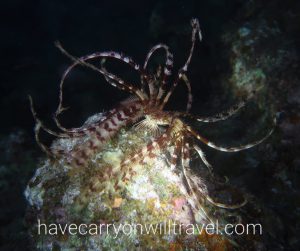 At the end of the dive Debbie is pleased, she enjoyed herself and the angst that comes from anticipating a night dive should be somewhat abated.