Today we meet up with our travel companions. Noon is our target. We start out to have breakfast across the street, the cafe is closed and when we go back to the hotel to ask where else to go they inform us we could have the complimentary breakfast we paid for upstairs on the second floor. Surprise to us.
We ask if the street we are intending to walk is safe and the folks look at up as if we are nuts. Sure it is safe but it is a long way. People just don't walk I guess. The entire walk takes us 1/2 hour. On schedule a group of gringoish looking folks walk through the front door and damned if they are not looking for us.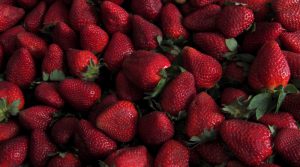 Introductions all around. Liz the chief, our tour guide from Wild Frontiers, gives an outline agenda for the day, we climb into a mini bus and off we go. Our first stop, the central square from whence we just came. A repeat of most of the highlights. Ivan, the local guide knows his stuff. I don't think one question stumped him, mind you he could say it is green and we would have to believe him because none of us would know the difference. He did tell us the imposing cathedral  was originally white plaster like the rest of the buildings on the plaza but was reclad in brick in the 1970's. And his intro speech enlightened us on the fact that Bolivia is a 'melting pot' of cultures. Many different indigenous groups and indeed peoples from all over the world have settled here over the centuries to make Bolivia what it is today. Did you know that there are about 70,000 Mennonites living in the areas around Santa Cruz?
I would rather walk than ride a bus but we do cover a lot of territory in a short time as we see parts of the city we would not have found. We drive by the park we were headed to yesterday when the lady told us it is not a place for tourists with cameras. It did look a little sketchy. We drive  through less affluent and total upscale residential areas. We do a tour of the outskirts and then stop at the largest and most popular mercado in Santa Cruz.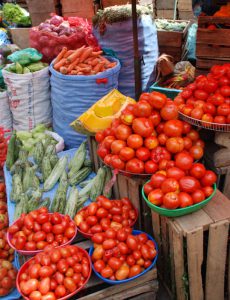 Not very crowded on a Tuesday but the potential for a weekend scrum is big. We stop at a "real" indigenous handy craft place where the local folks sell their goods but the deal is they must be of export quality. Too early for us to start shopping, so no purchases, although we got some ideas!
The crew is interesting enough, from a young lady that trades bonds in New York to a 80 year old electrical engineer that worked in high end speaker factories in England. Should be a good couple of weeks if I can get used to the group movement thing.
Some more random thoughts. Shoes. Man they are important. Tell a man by his shoes they say. Here the only stores open on Sunday are shoe stores. On every street corner there is a shoe shine guy and there is more often than not someone in the chair getting their shoes shined.
Eating out is much more about the dining experience than satisfying a basic need. We can sit all night and the check would not come. You have to request "la cuenta".
September 24 is a big celebration day here. It is the day the area, Santa Cruz, got its independence. During the entire month of September there are events to mark the occasion. It is also a time when the municipal government springs for some funds and does a lot of spruce up maintenance around the city. Yesterday 1/2 the benches in the central plaza were unusable because of a fresh coat of shellac. Today we cross the street and notice last night while we slept the city guys were out painting new lines on the main streets.
We are leaving Santa Cruz tomorrow to head south and west to less populated areas. We will post whenever we have WIFI, as we have been told that we will only have it in the cities. Stayed tuned!