Murray writes….Sooner or later it is bound to happen. I don't know how many nights we have spent in hotels over the last 25 years but I would estimate it to be over 500 but less than 1000. A big gap but the exact number is not really that important. Last night, just short of midnight the fire alarm started blaring. It woke me up but being somewhat groggy I was not sure what was going on. The noise itself was unfamiliar and not the loud ringing bell old people might expect. Then, this being the 21st century, there was an announcement. Something like, 'The fire alarm has been activated. Please stand by for further instructions'. As this blurb repeated over and over Debbie and I got dressed, as I think it would be inappropriate to descend the emergency stairs buck naked. Eventually it was determined it was a false alarm and we returned to bed. Emergency procedures are rarely practiced once you leave elementary school but it is good to know they are in place and reasonably easy to implement.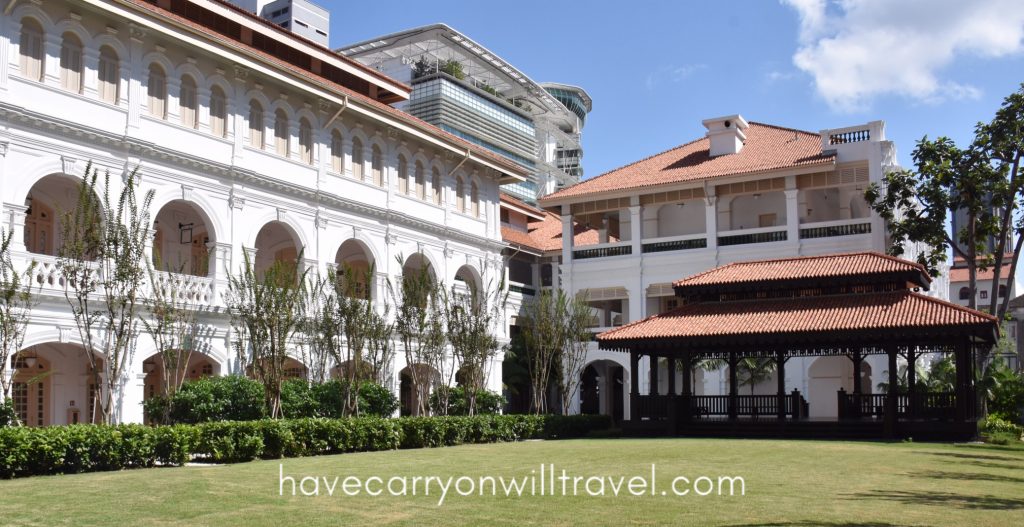 Debbie writes…..Yesterday we toured the Raffles Hotel (uber expensive and slightly snooty) and the Fullerton Hotel (high end but not snooty). The reason why I say snooty vs non snooty is that the Raffles only lets guests into the main building. The riffraff, us, could walk the grounds but not the inner sanctum. Whereas the Fullerton allows us to wander through and the staff even acknowledges us with a "Good Morning"! The Raffles was built in the late 1800s and the Fullerton in the 1920s, so they are the grandfathers of the modern hotels in Singapore.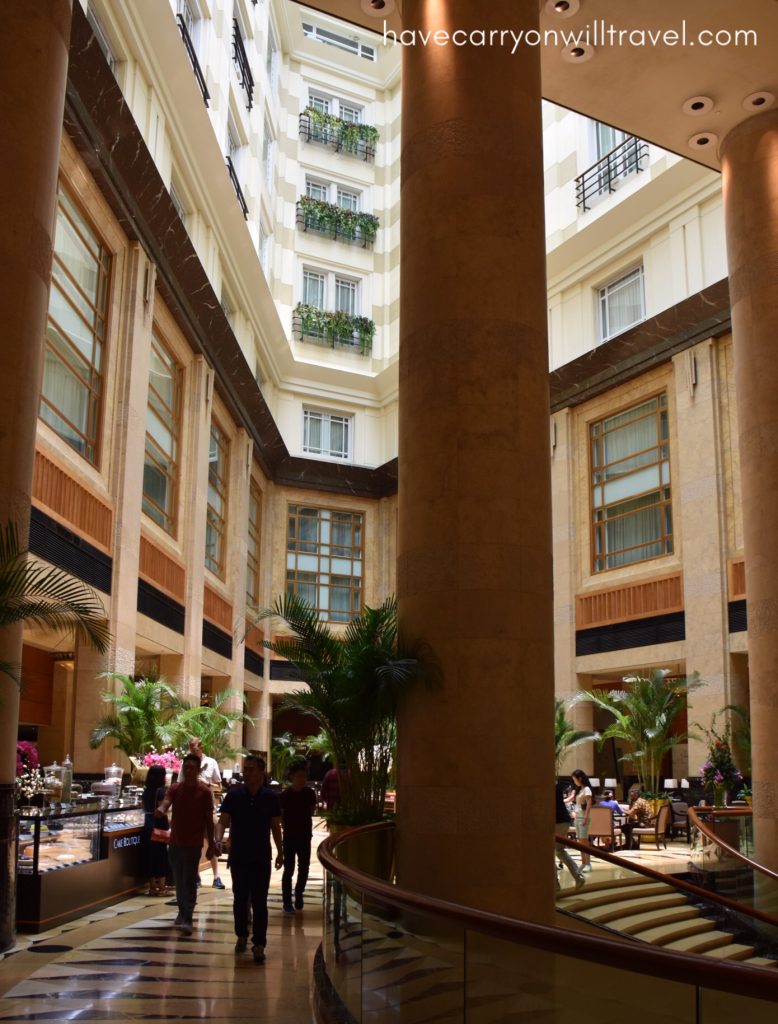 Last evening we watched the light show at the Gardens by the Bay. If I were a kid, I would have been enraptured with it, but as an adult it was okay/good, but not stellar. The highlight was when the skies opened up and let loose and we were thankful we both had our umbrellas!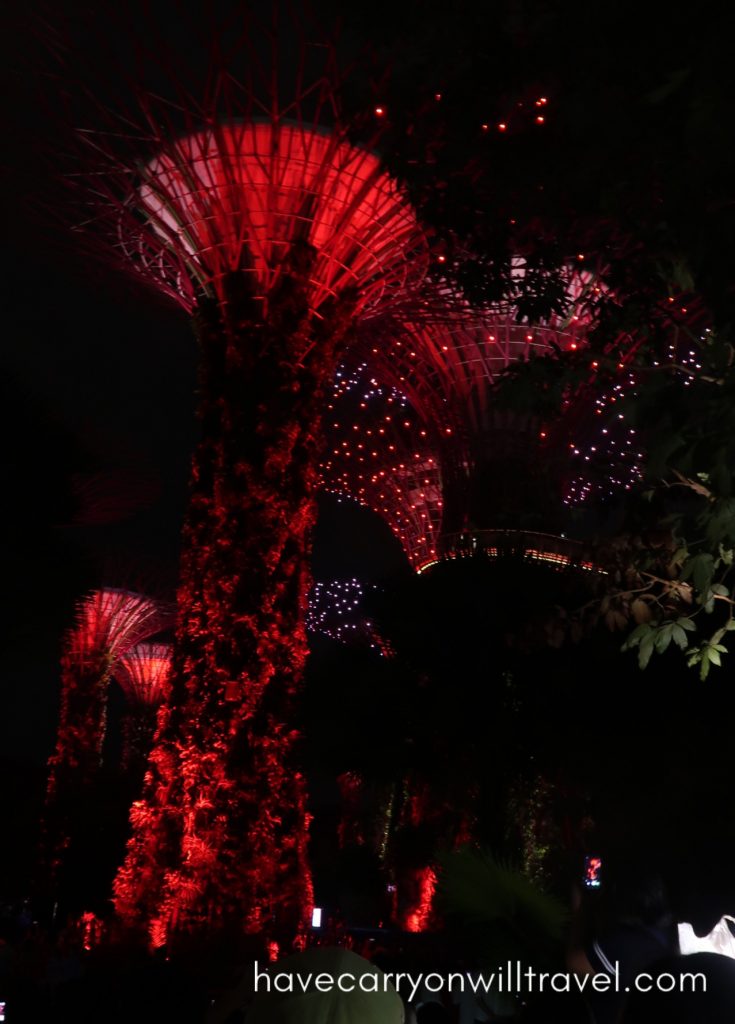 Today we plan to walk a short portion of the Rail Trail, which is an old railway line turned into a walking path. We alight from the train, find the trail and are chagrined to learn that it is blocked off for construction. We walk along the road beside it, thinking the construction will end, but it doesn't and we get a confirmation of its full closure from a local couple out walking. We decide to keep walking and end up on a, sometimes rugged, trail to the MacRitchie Reservoir. We figure we walked a total of about 12 km, and oh my aching feet! But it was worth it as we saw some wildlife…..monkeys and a flying lemur!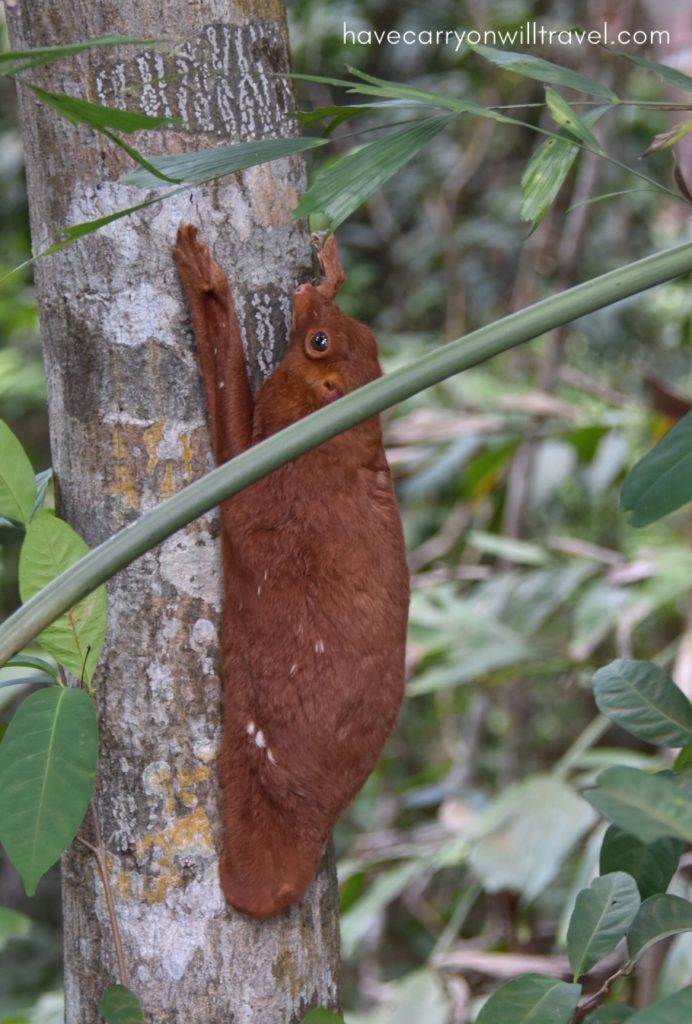 We noticed the other day that rush hour in the MRT tunnels flows similarly to the traffic on the roads. Everyone flows at about the same speed and everyone gets to where they are going in good time. If a speedy walker were to try to get through the people traffic, he/she would cause more disruption than just keeping the same speed. It is quite fascinating!
We must have needed a shot of North America yesterday. Don't tell anyone but we ate a lunch of fish and chips at a riverside restaurant and then I had KFC for supper and Murray had a slice of pizza. Tonight we are back to Asian cuisine.
We make the jump to Tokyo tomorrow where we will meet our friends L&R and start a three week adventure in Japan. See you on the other side.