Today we move to the Moremi Game Reserve, our last stop. We drive by the location of the wild dogs but they are not visible. It is extremely quiet and we see almost no wild life except impala.
We stop at the Khwai Village where about 300 people reside. We have asked Pat if we could walk through the village, if for nothing else to stretch our legs.
You see, we feel we are held captive while we have been on safari here. Our walking distances are either 20 steps from our tent to the dining tent, or 15 steps from our tent to the vehicle. Once we walked maybe 200 steps to see where an elephant slept. That has been the extent of our exercise for the last week. Those of you who know us well will understand that will be hard to take for Murray and me.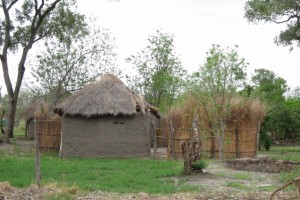 Anyway, we park at one end of the village, chat with some ladies and then walk down the road through it. We meet a fellow who works for the Khwai Village Trust and he is supervising the construction of a house for a poor woman and her children. The Trust has a program that provides employment for people who cannot find work by hiring them to build this house. The workers are fed breakfast and lunch and are paid a small wage. He did say that sometimes the workers are not motivated to work (as witnessed) and he has to keep them progressing on the house.
The houses in the village are mostly block and plaster with thatched roofs. The technique of using termite hill sand for the blocks and plaster is slowly being replaced by cement and cocrete blocks.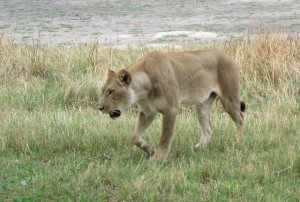 After we pass through the gates of Moremi Game Reserve, we see more game in an hour than we have seen in days in Khwai. Hopefully this will continue for our last 2 days in the wilds of Botswana.