Traveling along the Alberta highways in the summer I am again taken back by the beauty. The wheat has started to change colour and the landscape is now a patchwork of green and gold. Our trip to the mountains is pretty uneventful but we did see a very large moose traipsing across a shallow slough. We also took note on how the cows are respecting the social distancing edict and are evenly spaced at an acceptable distance of about 2 meters. Who would have thought??
We are on our way to Peter Lougheed Provincial Park to meet our kayaking buddies M & G and another couple we soon find out are S & J. We arrive and our reserved site is empty and ready for us to set up. M & G again arrived earlier and were already ensconced. Of course their drive from Calgary was much shorter. The Lower Lake Campground is quite big but it is nicely laid out, with a good amount of space between each site allowing for a bit of privacy. We were however treated to a free Spanish lesson at one a.m. when the lady next door was teaching her kid, who must have woken up scared, to count, uno, dos, tres….
9am and we are on our way to Upper Kananaskis Lake for our first paddle in the Canadian Rockies. Just standing on the shore looking at the crystal clear, blue/green body of water surrounded by rocky peaks rising right from the shore is an awesome site. Our goal is to paddle the perimeter of the lake and see what is about.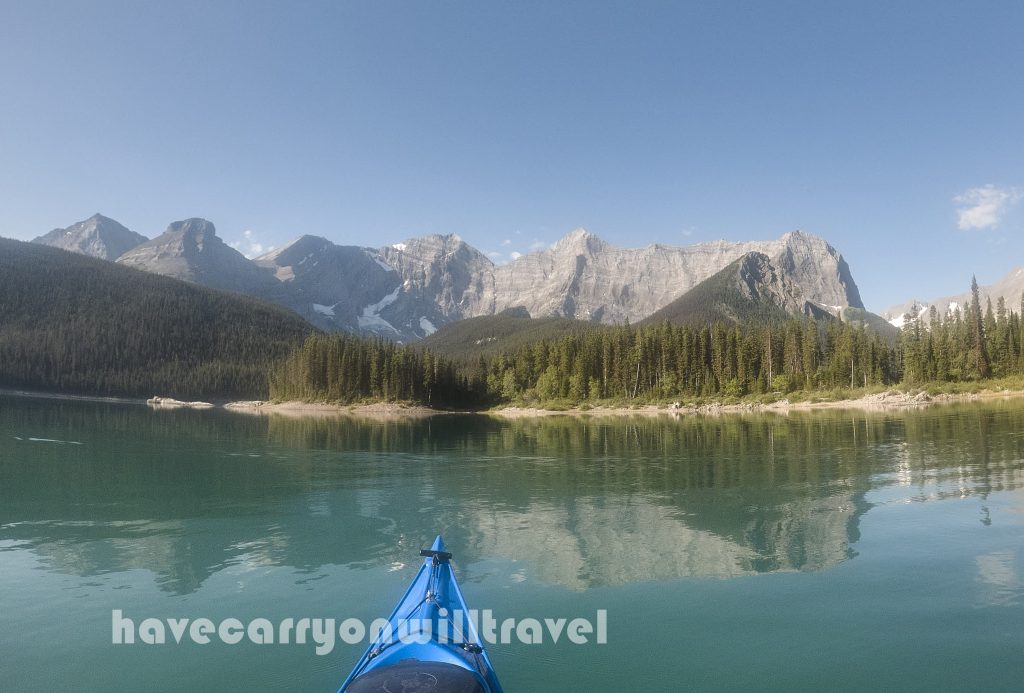 On this particular day there were no animals, save for a couple of ducks, about. There were a few boaters, power boats are allowed on this lake and a couple of boat loads of fishers were trying their luck, and three or four other kayakers out paddling.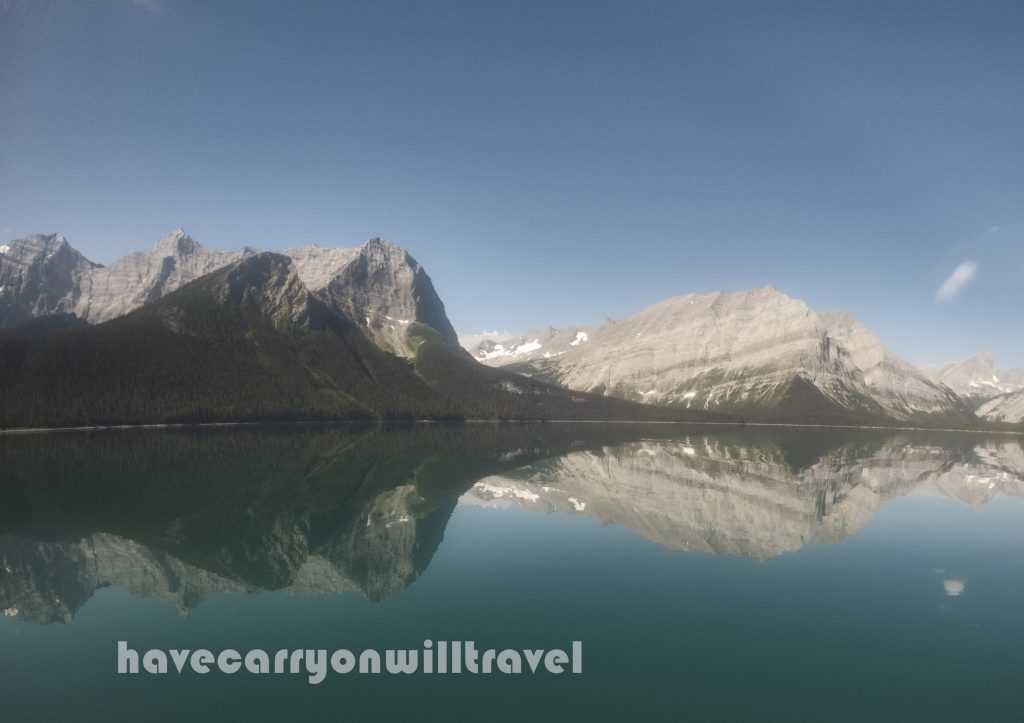 Half way around the lake, it's noon and lunch time. G lands his boat on a very small island, we all follow, seating for 6 please, we dig our dry bags out of the cargo holes and have a very peaceful and secluded lunch with a million dollar view. Right about noon we start to pack up and board our sloops.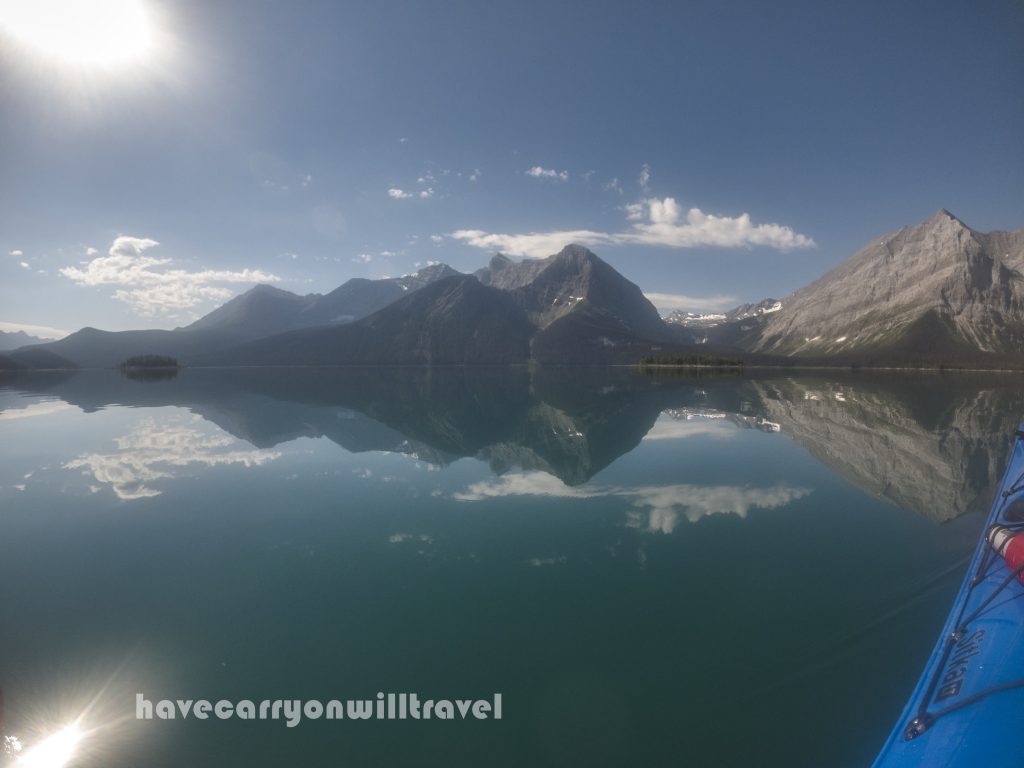 We were warned about the wind that whips up at exactly noon and sure enough the air starts to move right on queue. We are on the homeward leg of the journey and the waves are very small so we just keep paddling in a leisurely fashion.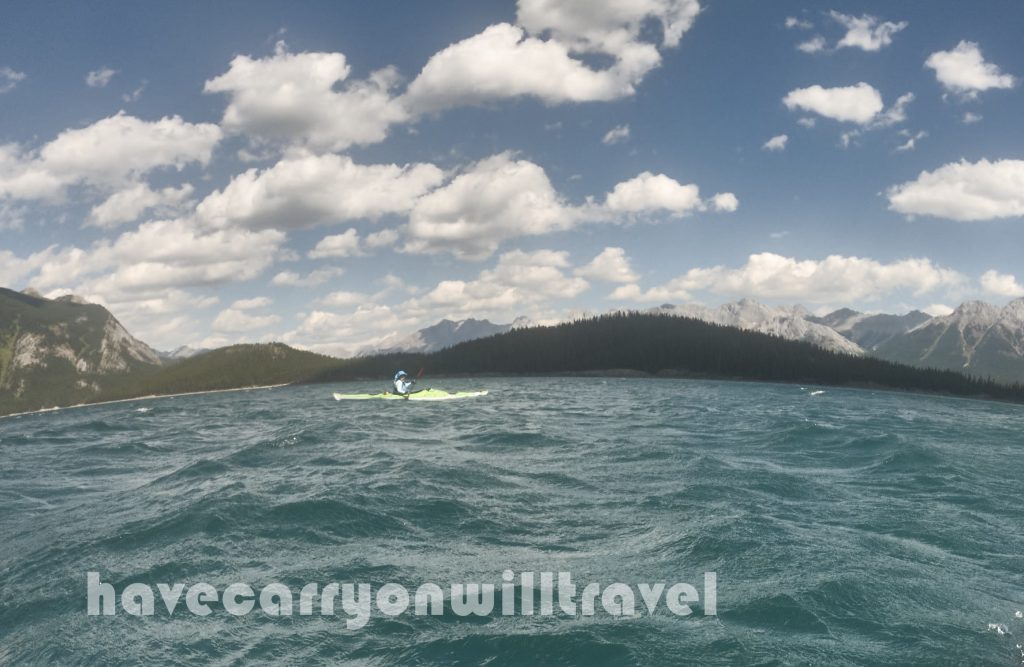 About a 1/2 hour in, the wind starts to pick up and in a flash the waves are a 1/2 meter high with white caps. This is a bit disconcerting, we buddy up and paddle towards the boat launch in a much more urgent manner . This is the first time Debbie and I have been in water like this so we learn on the job so to speak. The wind of course is not constant and the gusts create a very unpredictable canvas on which to apply our art. Neither of us have a lot of arrows in our quiver but we did use a couple of different paddle strokes to maintain some sort of control over the direction we were headed. We do get to experience one very cool thing. We got to surf a few of the waves. Paddling along with the wind at our back, a wave picks us up and jets us forward. A bit of fun in a somewhat stressful situation.
A couple hundred meters from the boat launch we round a point and find ourselves in a small somewhat calmer bay. This lessens the urgency and we can paddle in a much more relaxed manner till we reach the shore. Debbie and I get there first, we leave our boats in the water, ready to lend a hand if necessary, and keep our eyes across the water making sure our friends are not in distress.
Regardless of the somewhat bumpy ride at the end of our tour it is a wonderful day on a pristine lake with world class scenery as a backdrop.