When we started planning this trip with R & L we were advised by a tour guide living in Kyoto that we would be in Japan near the busy season and should book all our accommodation in advance. At one of the our first meetings we decided to book a range of different types of hotels. We divided up the work and kept each other informed whenever a booking was confirmed.
We stayed in 12 different places and each hotel had its own personality. Arriving in Japan, Tokyo is our first stop. It is very big so to choose one area over another to stay in is impossible. It is the hotel that determines our set down point. The Edo Sakura is a very small boutique ryokan. There are western style rooms available but we chose to jump right in and reside in a Japanese style, 6 tatami mat room. Great place with wonderful staff. Breakfast, either western or Japanese, is available for a small charge.
Place 2 we did not book in advance. A category 5 typhoon is about to hit Tokyo and we cut out early leaving the last night's rent at the Edo Sakura on the table. On the way to Osak,a L uses the trains internet to book a room. We use a taxi to find our way to the Minn Juso. Nice enough place but the area left a bit to be desired. Ladies of the evening gathered on the corner nearby and the night clubs are on the next street. So the clientele are young, rowdy and noisy. This results in the fire alarm ringing at 3am and us heading out into the rain until someone could clear the alarm.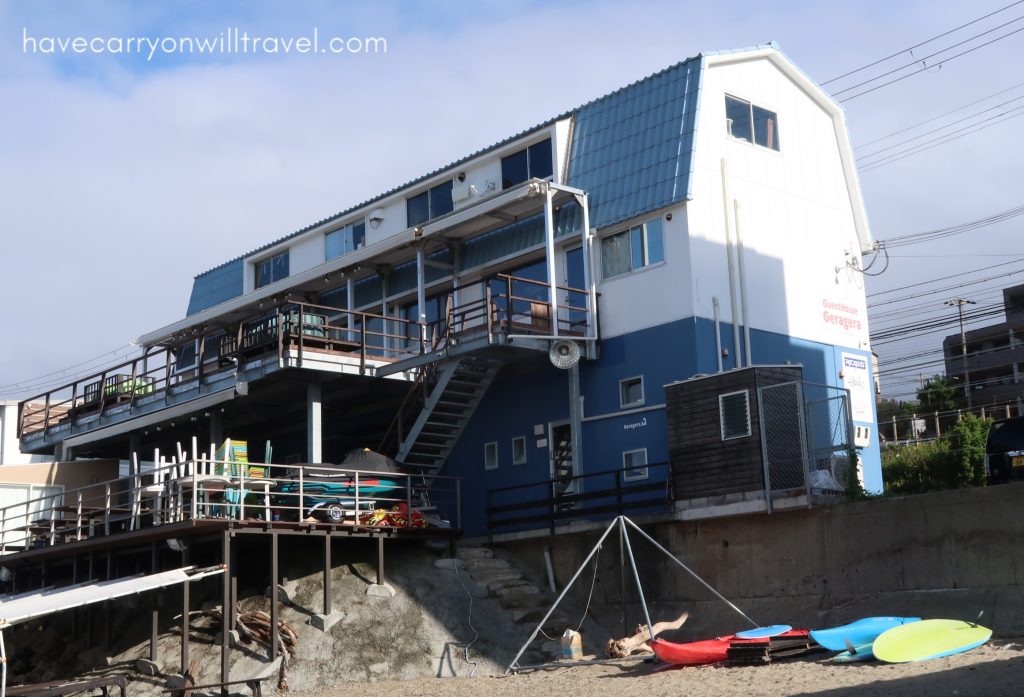 The morning saw us head to nearby Kobe. We stayed in the Guesthouse Geragera on the shores of the Inland Sea. The rooms are dormitories and booking a whole room is possible. This we did. All 4 of us shared a room of about 150 sq. ft. Four bunk style beds and a fantastic view when we opened the door. It is a very casual place and the staff are great. It was a fun start to our road trip.
Onward to Tokushima on Shikoku Island. Here L found an older Japanese house to rent on Air b&b. We stayed for two nights and cooked breakfast and dinner in. The space is small by North American standards but we had more than enough personal space and were able to breathe once again. Interesting to see how the Japanese see and use space.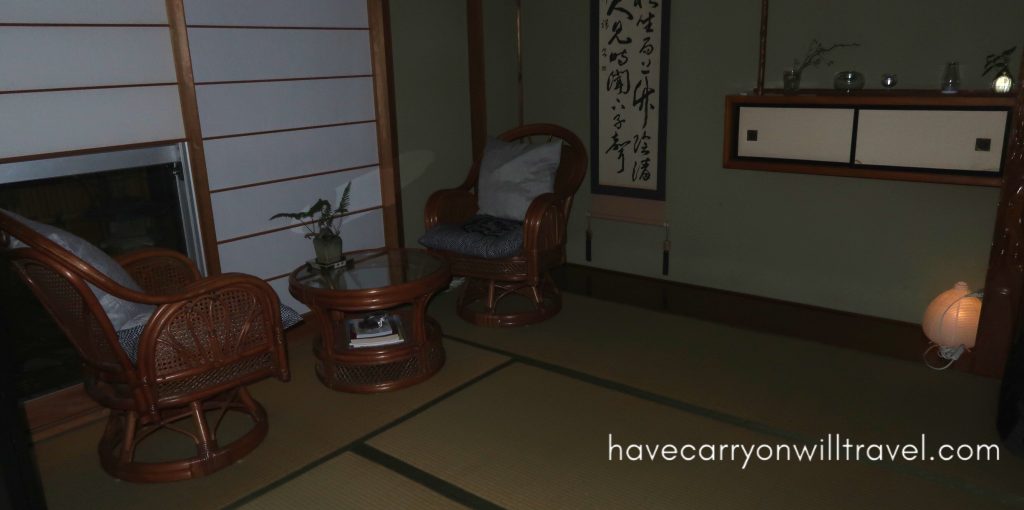 Our next destination, the Iya Valley and the very plush Kazurabashi Ryokan. It doesn't really fit my image of a ryokan, which would be a small b&b type place. To me it is more of an old style luxury hotel. The rooms are Japanese style and the food, which is included, is oh so Japanese. It is our first encounter with an onsen and it is high class to match the rest of the digs.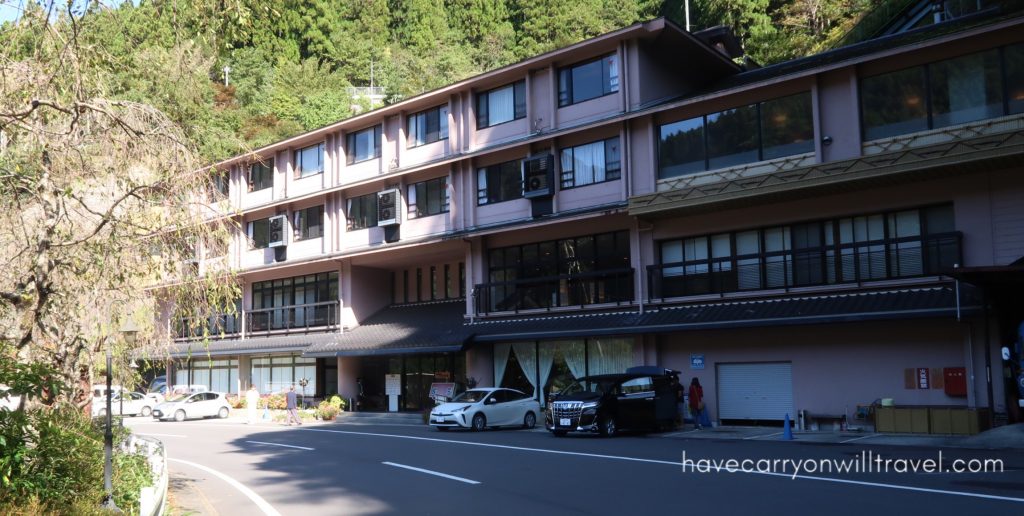 Back in an urban environment we moved into the MyStays business hotel in Matsuyama. It is set up for business travelers in Asia and therefore quite small. The rooms are nice enough and adequate for the one night we spend there. It is close to the Matsuyama Castle and restaurants.
For Hiroshima, it was the Hana Hostel, to keep overall costs down. Central location to sights and restaurants. The building and rooms are slightly worn, but it was adequate for one night's stay. It is near the train station so trains rumbled by. The sound wasn't overpowering and it did stop in the middle of the night.
The Izumo Green Hotel Morris, had small western style rooms which were cozy and fine for one night. Most hotels offer a breakfast buffet, for a cost of about $7 Cdn, of a combination Western and Japanese foods. We partake in their offering and it is satisfying. This chain has hotels in other locations so would be handy to book more than one location.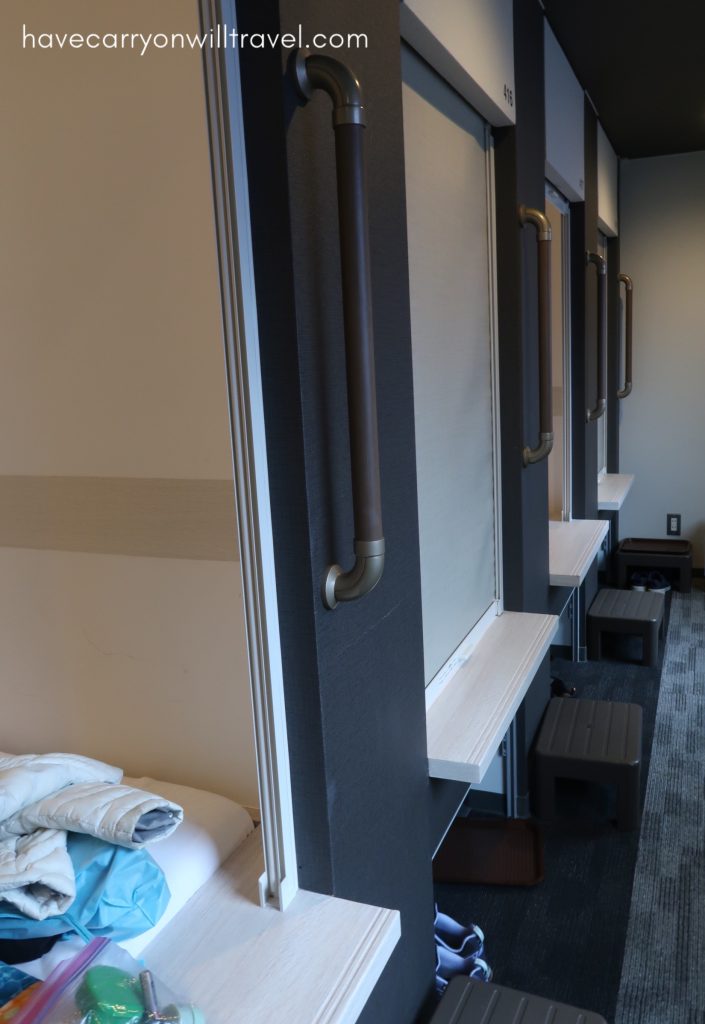 Tottori's Drop Inn advertises itself as a luxury capsule hotel/hostel/guesthouse. It is well appointed, clean and a must stay in if one ends up in Tottori. The capsules were large enough for 6'4' R to sleep in comfortably. We felt safe and all slept well. Cool place and my favourite.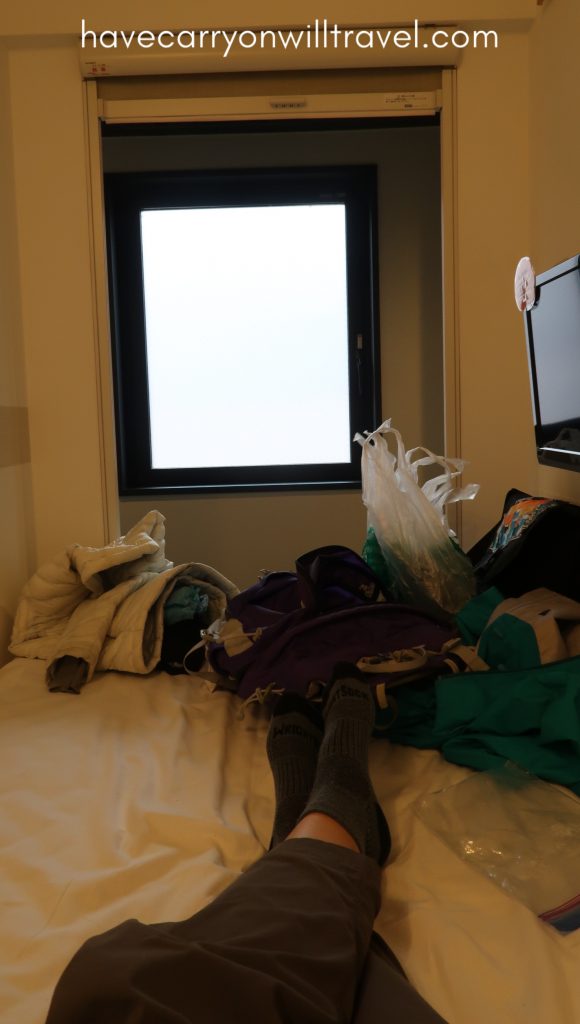 Kyoto's Hotel Ninja Black was also a favourite. It is a small boutique hotel decorated in …… ninjas. It is only a few years old, well kept, clean design, western rooms and perfect for us. We would stay there again if we found ourselves in Kyoto in the future.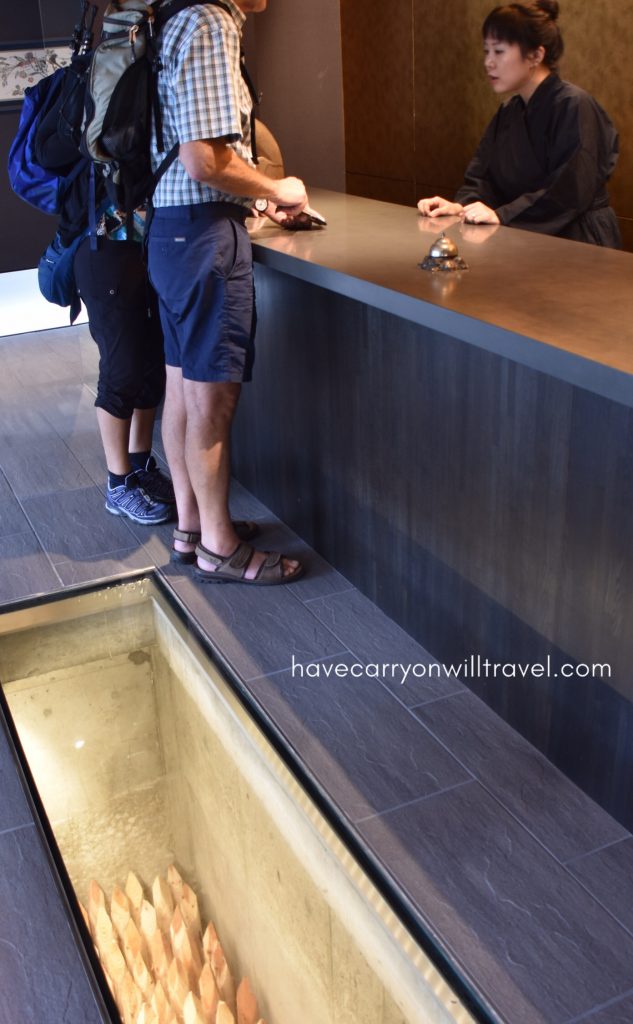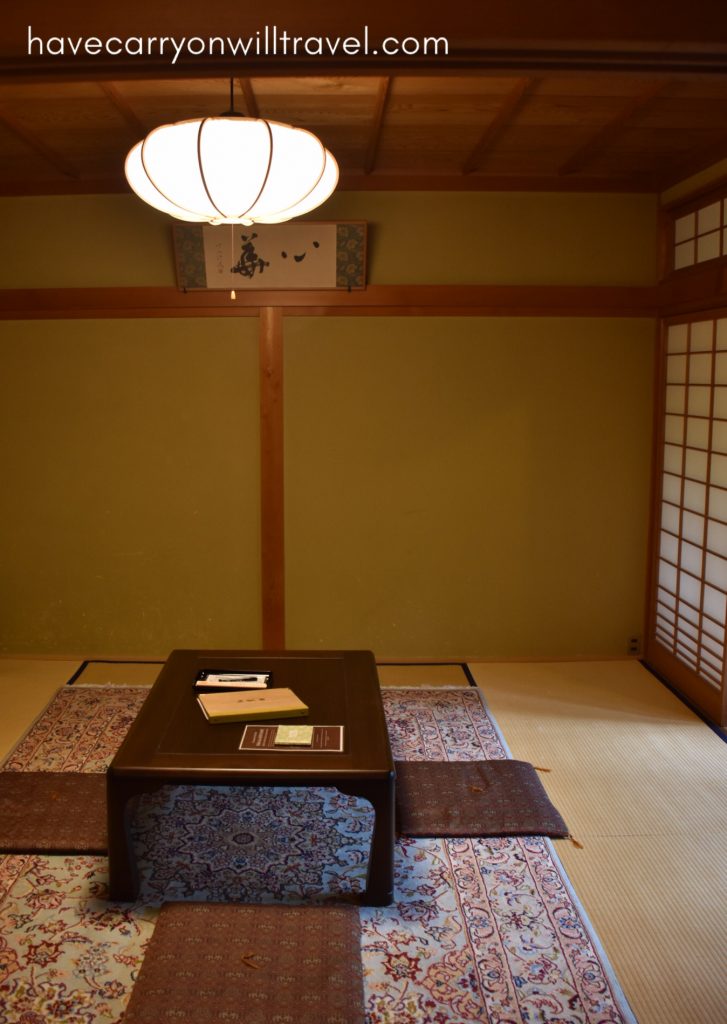 We wanted to go to Koyasan and do a "temple stay". We booked at the Ekoin, recommended to us and boasts high reviews. It was very well appointed and totally what we were not expecting. We thought we would be "roughing it" but it was almost the caliber of the Iya Valley ryokan. Very Japanese, of course, with tatami mats, futons, onsen and sitting cross legged at low tables for meals.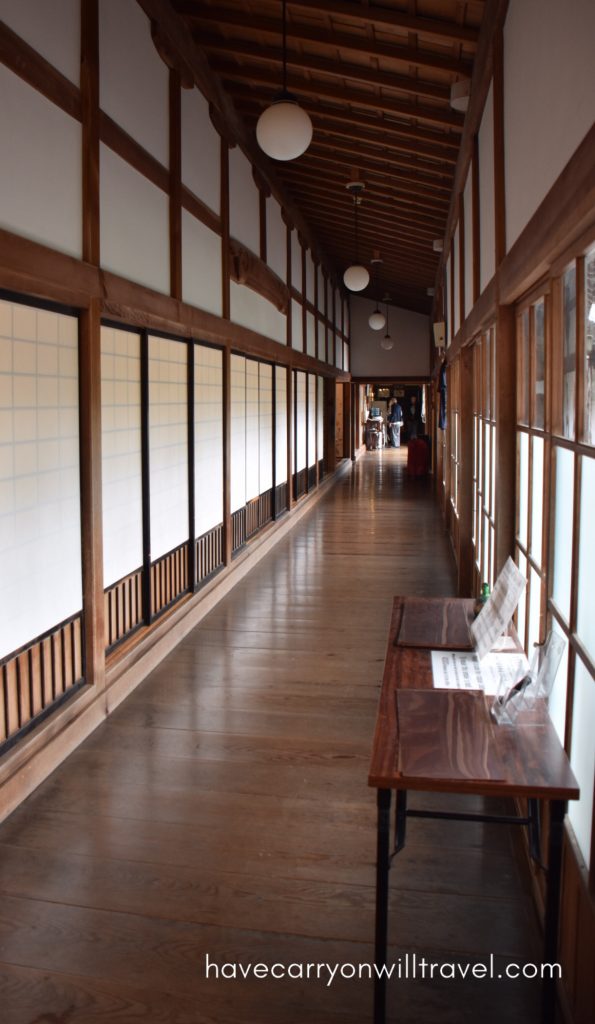 We splurged in Mt Fuji and L booked western style Volcano view rooms at the Fuji View Hotel in Kawaguchiko. Totally worth the extra to get a view of Mt Fuji first thing in the morning. I dragged the easy chair in front of the window so I could eat my breakfast and watch the sky change over Mt Fuji. The onsen is wonderful and not too crowded. The hotel was slightly removed from the center of the town, but we made use of the free shuttle and the sight seeing buses to get around.
We all had our favourite places that we stayed in, but overall, we enjoyed every one. It was a great way to experience Japanese hospitality.