We arrived late at night. We have learned, don't dive the next day! Hanging about on day 1 we orient ourselves by driving around a bit. We see if we can remember what roads lead where. A visit to the dive shop is in order. We need to get our schedule, confirm meeting times and drop off our dive gear so it can be set up on the boat the next morning. Groceries also loom large. We need breakfast food and some snacks for after diving.
Up early on day 2 and on the trip out of the harbour we pass a huge school of dolphins looking to play on the bow wave. This auspicious beginning bodes well for the up coming couple of weeks of diving.
We get to the first dive site. I stride in from the gate on the side of the boat and the cold water rushes into my wetsuit. Oh man, a couple of Fahrenheit degrees makes a big difference. 81F in Bonaire and 78F here, yikes.
This day a hammerhead shark was spotted, not seen be me but I gotta believe. They don't usually hang around this long into the fall but there seems to be one in particular that likes this place. There was also a sand bar shark circling as well, a very large fellow that passed by a couple of times.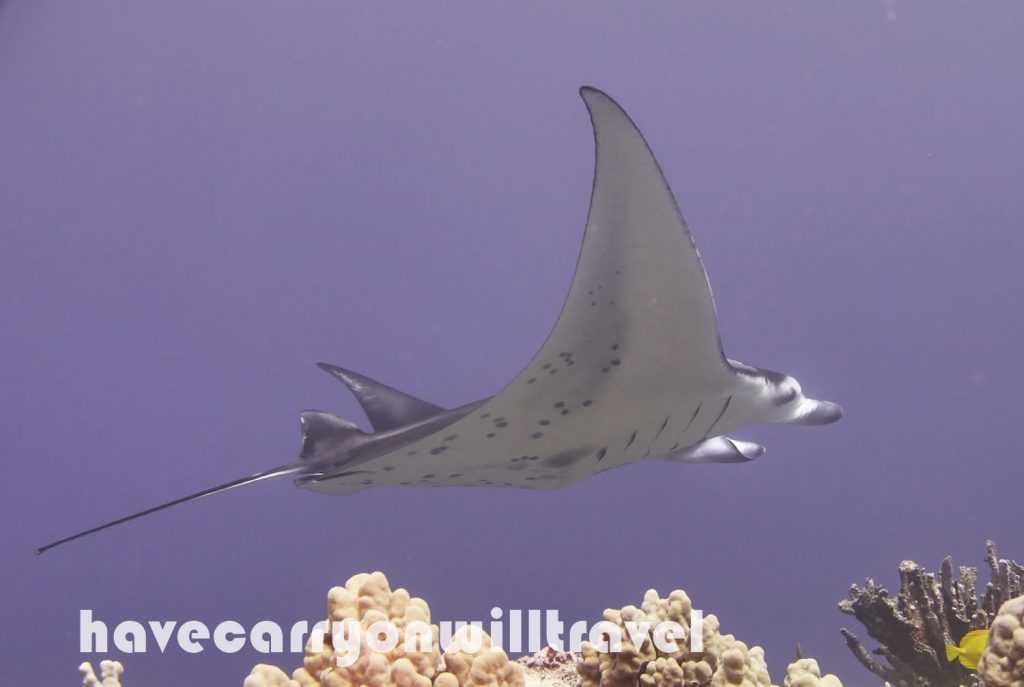 Diving day two we head north of the harbour again. The site is Wash Rock and our mission is to spot a manta. On cue, Gabby, one of the local mantas is cruising the top of the drop off looking for breakfast. She swims a bit, then circles back, swims a bit more and circles once again. Every time she circles back she comes within a few feet of us. It is amazing to see one of these giants up that close. We followed Gabby for about 1/2 an hour. She is graceful as anything and moves about in the water with the adeptness of something half her size.
It's been a few years since we have been here and we had forgotten how good the diving is. It is unique. There are different fish than we see in the Caribbean and the coral is not as plentiful as say the South Pacific, but there are a lot of fish and oh so colourful. There is also a goodly number of unusual swimmers like the ones already mention to check out as well.
What else is new around here? The main highway from north of the airport into town, which was a construction mess when we were here last, is now completed and pan flat smooth. So nice in fact the speed limit seems to be a suggestion rather than an absolute. The crowds are down. Even though travel from mainland USA is easy there is not as many people here as there has been on previous trips. There is a lot of empty retail space. I think the pandemic probably separated the wheat from the chaff. There are some new businesses but there is still a lot of empty storefronts.
Today is a rest day but tomorrow we are back on the boat. It's good to be back in paradise and really good to be underwater.