6:00am. no wind.  looks like a go.  breakfast as usual. 7:30. no wind.  8:05. time to leave.  wind is howling?????  how does that work.  8:30. dive shop. diving is on.
The dives are relaxing. Our novice divers are starting to enjoy themselves more. They're looking in sponges and under overhangs, finding lobsters, and playing with the current. Our second dive is like a walk in the forest. We do not see any big elk or moose, but we enjoy the squirrels, flowers, ferns and trees and just being out in the forest.
On our return, R,A and B head off to Paradise Beach. Murray and I go for a walk in the neighbourhoods of Cozumel. As we walk we talk about how the third world is becoming less third world. There is a large middle class and they all can afford more than basic life necessities.
We go to Botswana and people there want to have a house designed like a North American house. Even though their lifestyle may not fit exactly into a North American house, they still want one. Is it the idea of being like North Americans that is so appealing?
Even in a country like Bhutan, the new apartment blocks that are being built have a western world look and feel to them. The influence has a long reach.
As we walk along residential streets in Cozumel, we see rows of houses that look like they could have been in any city in Europe or North America. Single family houses with gates, small yards, front doors and cars parked in front. Apartment units. Row housing.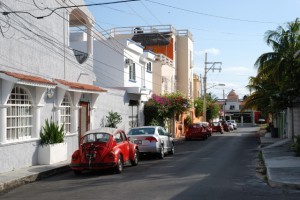 We notice how clean Cozumel is. We are told there is garbage pickup three times a week. We see a teenage boy throw an empty bottle into the trash can instead of on the road or in an empty lot. There is hardly any garbage on the streets.
The people are friendly and reply to Murray's "buenas tardes". The children we come across smile at us when we say "ola" to them.
Our walk through the residential side of Cozumel is just like our dive this morning, a walk in the forest. Relaxing.